Translations: Italian |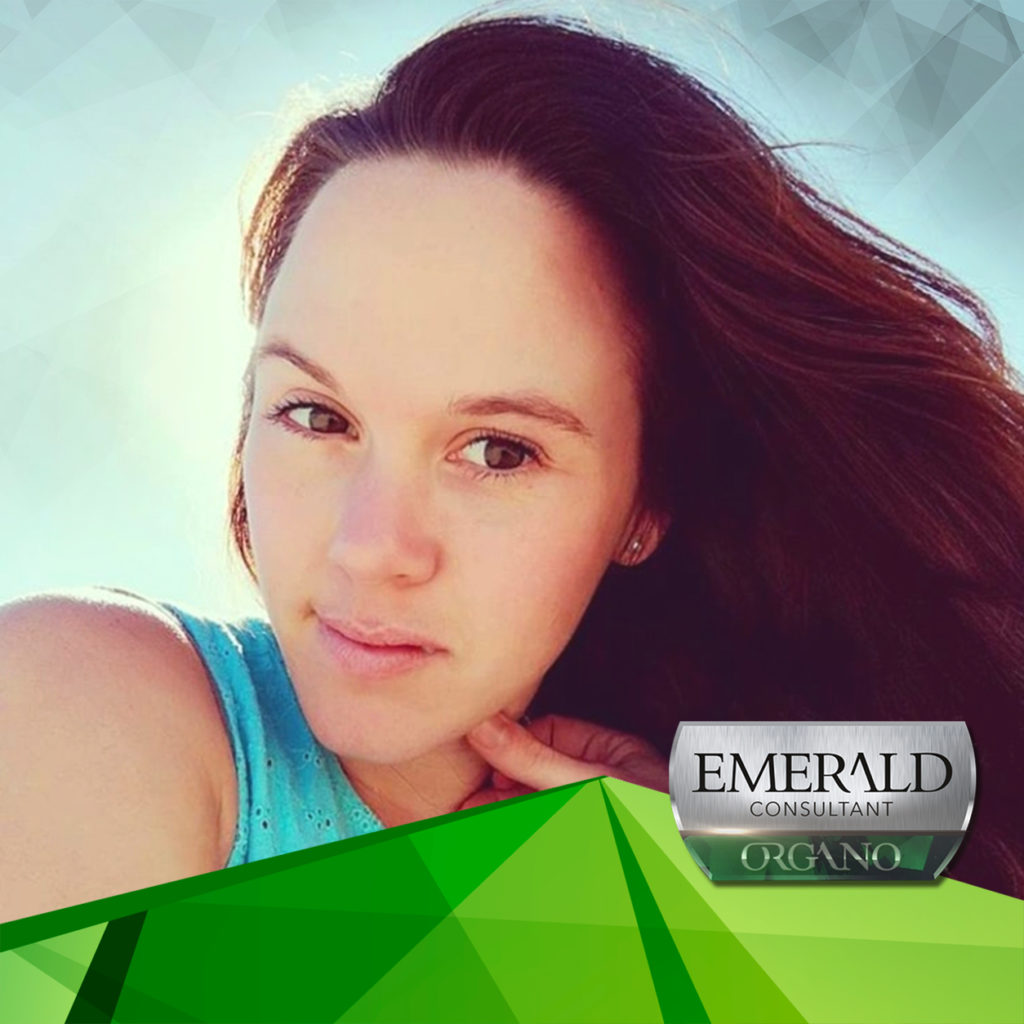 Lorisca De Ridder is an Independent Distribution Partner from Port Elizabeth, in South Africa. She started in ORGANO™ in June 2019 and just few months later she started climbing the ladder of success achieving the Sapphire qualification within one year from the enrolment date, then Ruby and in September 2020 the Emerald. She is a full-time home schooling mom of two little boys and she is in love with the Gourmet Products of ORGANO™ enriched by Ganoderma Lucidum. 
What's the role of your team in your success?
When I think of my team I think of them as family, we have a strong unbreakable relationship and we keep contact on a daily basis. Every single one of my team members has what it take to be right at the top! They are true warriors, have passion and determination to succeed, they are changing lives all around and have changed their own lives by doing so. My team have taught me to be a better version on myself, they have taught me that anything is possible if you want something bad enough. My team is the reason why I want to help as many people as I can to share this incredible opportunity with. Each of them touched my heart and I feel honoured to have them in my life. They are all DIAMONDS to me.
How did you plan to achieve the Emerald Qualification?
I might have a different story about how I have reached Emerald, but to be honest I never focused on reaching Emerald. I am a giver, I wanted to help everyone in my team to generate an extra income and I just kept my eye on that goal. Helping people makes me feel good, so by focusing on training my team and helping them reach their goals helped me to get to Emerald without me setting that Goal for myself.
What's your business daily routine?
I share my story and my own testimonial with everyone I come across with. Believing in the products makes it easy. I can just share a cup of coffee with someone and tell them about the Ganoderma, recognised by many as the highest ranked of all herbs. Every day is a new opportunity to help someone.
How do you present the OG products to your retail customers?
Using social media is one of the most popular ways to create curiosity about our incredible products. When I have someone interested in the OG products I offer a sample for testing and they always come back for more. Ganoderma Lucidum is known as "King of Herbs". Many ancient civilizations used mushrooms for more than just food. Everyone drinks Coffee or Tea and everyone want to feel amazing.
How important are the retail customers in your business and how do you follow up?
Putting in the extra effort is very important to me. Organo has set very high standards and have invested so much into the products, quality and branding. Without our customers nothing would be possible in Organo. Going the extra mile with sending guidelines, little thank you gifts for their purchases, pamphlets with more information makes the experience just a little more special. Our customers deserve only the best and I like to think I need to keep up Organo's standards by giving customers the full package. Every week I follow up with customers asking about their Experience with Organo, how they are feeling using the product, what they think of the product and just to keep contact. Building relationships are so important and receiving feedback makes my heart happy. I am a proud Independent Distribution Partner and Strong believer in Ganoderma Coffee.
*Actual income resulting from the activity of Independent Distribution Partner will depend on the amount of time and effort an individual devotes to his/her business.
---
Lorisca De Ridder è un'Incaricata Partner indipendente proveniente da Port Elizabeth, in Sud Africa.
Ha conosciuto ORGANO™ nel giugno del 2019 e pochi mesi dopo ha iniziato a scalare la vetta del successo ottenendo la qualifica di Zaffiro ad un anno dalla sua iscrizione, poi quella di Rubino e nel settembre 2020 quella di Smeraldo. È una mamma a tempo pieno che insegna da casa ai suoi due bambini ed è innamorata dei Prodotti Gourmet ORGANO™ arricchiti con Ganoderma Lucidum.
Quale ruolo ha la tua squadra nel tuo successo?
Quando penso alla mia squadra, penso a loro come ad una famiglia, abbiamo un rapporto forte e indissolubile e manteniamo i contatti giornalmente. Ognuno dei membri del mio team ha quello che serve per arrivare al top! Sono dei veri guerrieri, hanno passione e determinazione per arrivare al successo, stanno cambiando vite ovunque e hanno cambiato le loro vite in questo modo. La mia squadra mi ha insegnato ad essere una versione migliore di me stessa, mi hanno insegnato che tutto è possibile se vuoi qualcosa veramente. Il mio team è il motivo per cui voglio aiutare quante più persone possibile a condividere questa incredibile opportunità. Ognuno di loro mi ha toccato dentro e mi sento onorata di averli nella mia vita. Sono tutti DIAMANTI per me.
Come hai pianificato di arrivare alla qualifica di Smeraldo?
Potrei avere una storia diversa su come ho raggiunto lo Smeraldo, ma ad essere sinceri non mi sono mai concentrata sul raggiungimento della qualifica. Sono una persona generosa, volevo solo aiutare le persone nel mio team a generare un reddito extra e ho tenuto d'occhio questo obiettivo. Aiutare le persone mi fa sentire bene, quindi concentrarmi sui training per la mia squadra e aiutarli a raggiungere i loro obiettivi mi ha aiutato a qualificare Smeraldo senza fissare tale obiettivo.
Qual è la tua routine quotidiana lavorativa?
Condivido la mia storia e la mia testimonianza con tutte le persone che incontro. Credere nei prodotti lo rende facile. Posso semplicemente condividere una tazza di caffè con qualcuno e parlare loro del Ganoderma, riconosciuto da molti come la migliore tra le erbe. Ogni giorno rappresenta per me una nuova opportunità per aiutare qualcuno.
Come presenti i prodotti OG ai tuoi clienti al dettaglio?
L'utilizzo dei social media è uno dei modi più popolari per creare curiosità sui nostri incredibili prodotti. Quando qualcuno mostra interesse per i prodotti OG, offro loro un campione omaggio e tornano sempre chiedendone di altri. Il Ganoderma Lucidum è conosciuto come "Re delle erbe". Molte antiche civiltà usavano i funghi per qualcosa di più del semplice cibo. Tutti bevono caffè o tè e tutti vogliono sentirsi bene.
Quanto sono importanti i clienti al dettaglio nella tua attività e come li segui?
Fare uno sforzo in più è molto importante per me. Organo ha fissato standard molto elevati e ha investito tanto nei prodotti, nella qualità e nel marchio. Senza i nostri clienti nulla sarebbe possibile in Organo. Cerco di fare il possibile inviando materiale informativo, piccoli regali di ringraziamento per i loro acquisti, opuscoli con maggiori informazioni, ciò rende l'esperienza un pò più speciale. I nostri clienti meritano solo il meglio e mi piace pensare di dover mantenere gli standard di Organo offrendo ai clienti il ​​pacchetto completo. Ogni settimana seguo i clienti chiedendo informazioni sulla loro esperienza con Organo, come si sentono utilizzando il prodotto, cosa pensano del prodotto, solo per mantenere i contatti. Costruire relazioni è importante e ricevere feedback mi rende felice. Sono un'orgogliosa Incaircata Partner indipendente e una forte sostenitrice del caffè con Ganoderma.
*Il reddito effettivo derivante dall'attività di Incaricato Partner Indipendente alle Vendite dipenderà dalla quantità di tempo e sforzo che un individuo dedica alla propria attività.
---