Translations: Italian | Spanish | French
Alain de Smedt waves goodbye to yo-yo dieting for good
Alain de Smedt from Belgium came to the realisation that yo-yo dieting was neither healthy nor effective earlier on than most. As an existing ORGANO Distributor, he was among the first to hear about the exciting impending arrival of OGX Fenix in Europe, and was keen to learn about it. The more he read about the shakes, the plan and the science behind them, the more he realised this could be just the solution he had been looking for to lose the weight while also taking care of his health.
"I knew that if I wanted to sell OGX Fenix, I had to lead by example. I started at the end of July 2017, and had lost 19.7 kg within three months," he recalls proudly.
Looking back over his journey, Alain tells how he began having one OGX Fenix shake in the morning with his ganoderma-infused ORGANO Black Coffee, and another in the evening around 6pm with a warming cup of ORGANO Green Tea; choosing to have his healthy meal at lunchtime. As for exercise, Alain enrolled in a plank challenge to ensure he was tackling both the diet and movement side of the OGX lifestyle.
Fast forward to the one month milestone since his first OGX Fenix shake, and Alain says, "I had lost 8.8kg and received congratulations from my entourage which encouraged me to persevere." It is often this thirty-day period that makes or breaks people, and for Alain it had certainly made him.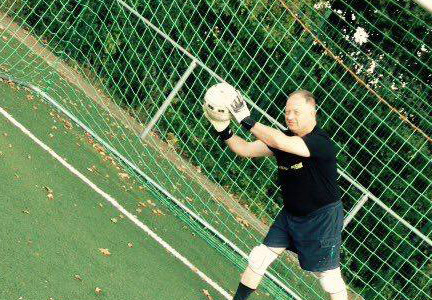 Today, Alain has lost a little over 20kg in total. The change has been incredible, and he describes how he "feels much better, changed my wardrobe, gained energy and flexibility, and was able to resume football at 54 years old" as a result of sticking with the plan.
"OGX Fenix is the only product that has given me 100% satisfaction compared to all the other diets that I have tried" he explains. "I am soon going to undertake another three-month X4Ever challenge as I have set myself a new weight goal. I am still motivated because I know it is for my health."
As for his ORGANO business, Alain says he will absolutely continue to promote OGX Fenix and host his events known as OGX Mixers. "I've talked a lot about the products and gained several customers who were satisfied with their own success." To get them started, he shared his knowledge and drew on what had helped him throughout his own journey. Telling your story to motivate others is a technique that has proved hugely successful across the ORGANO community, so it's no surprise it worked well for Alain too.
"I created my own list of tips named 'Alain's Tips'" he explains. "I gave the list to each of my new customers, which was inspired by my own experience with OGX, such as giving yourself a deadline."
Even his wife has got on board! "She has now lost 11kg," says Alain, "and views the OGX Fenix shakes as losing weight while indulging herself."
We could not agree more! When healthy products are that delicious, it doesn't feel like depriving yourself; it is simply caring for your body. The treat for your taste buds is just a bonus!
Congratulations to Alain, his wife and all the ORGANO newbies who are on the journey to becoming the best version of themselves with Alain's support. He has been where you are, so is perfectly placed to help you achieve your goals. Good luck to anyone who is inspired by Alain and feeling motivated to get started – we know we are!

#x4ever #x4life #xchallenge #Challenge
Alain de Smedt ha detto addio alle diete con effeto yo-yo
Alain de Smedt, Distributore ORGANO belga, un giorno è giunto alla conclusione che tutte queste diete con effetto yo-yo non erano né salutari né efficaci. Grazie al suo ruolo all'interno dell'azienda, è stato tra i primi a sentir parlare di OGX Fenix e del suo dell'imminente lancio sul mercato europeo. Interessato al prodotto, ha iniziato a informarsi su questo frullato, al progetto e al lavoro che ci sta dietro. Più leggeva, più si accorgeva che questa poteva essere la soluzione ideale per perdere peso e, al contempo, prendersi cura della propria salute.
"Sapevo che per vendere OGX Fenix, avrei dovuto dare il buon esempio. Ho iniziato a fine luglio 2017 e in tre mesi ho perso 19.7 Kg" afferma orgoglioso.
Ripercorrendo questi tre mesi, Alain racconta che ha iniziato con un frullato OGX Fenix al mattino, insieme a una tazza di Caffè Nero ORGANO, e un altro nel tardo pomeriggio con una tazza calda di Tè Verde ORGANO, optando per un pasto salutare a pranzo. Inoltre, ha dato importanza anche a uno stile di vita sano, in linea con la filosofia OGX, decidendo di iscriversi a una sfida, la plank challenge, un esercizio che si concentra particolarmente sugli addominali, ma che permette al contempo di far lavorare tutti i muscoli del corpo.
Alain parla dei progressi ottenuti nel primo mese, da quando ha bevuto il primo frullato OGX Fenix "Ho perso circa 9 Kg; i complimenti delle persone che mi circondano sono stati uno stimolo a continuare questo percorso". I primi 30 giorni sono i più importanti: o si molla o si va avanti, e certamente Alain non ha gettato la spugna.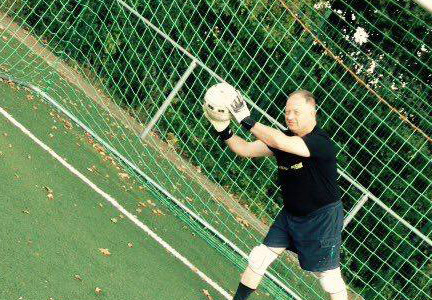 Ad oggi, Alain ha perso poco più di 20 kg e parla di un cambiamento incredibile: "mi sento decisamente meglio, ho dovuto comprare nuovi vestiti, mi sento forte, pieno di energia e ho ripreso a giocare a calcio a 54 anni"
"OGX Fenix è l'unico prodotto che mi abbia soddisfatto completamente se paragonato a diete provate in passato. Mi sono prefissato un nuovo obiettivo per la perdita del peso e presto inizierò una nuova sfida di tre mesi, la X4Ever challenge"
Da un punto di vista professionale, Alain non ha alcun dubbio e continuerà a proporre OGX Fenix e ad organizzare gli eventi OGX Mixers. "Parlo in continuazione di questi prodotti e molti clienti erano soddisfatti dei loro risultati". Per invogliarli a iniziare, ha condiviso con loro la sua conoscenza ed esperienza. Qui ad ORGANO crediamo fortemente che raccontare la propria storia sia una tecnica per invogliare e motivare le persone, Alain non ha fatto altro che confermarlo.
"Ho ideato una mia personale lista di consigli: I suggerimenti di Alain" spiega "Ho dato questo elenco a ognuno dei miei nuovi clienti, motivandoli grazie al mio percorso con OGX. Un buon consiglio? Porsi delle scadenze"
Anche la moglie si è messa in gioco: "Per il momento, ha perso 11 kg" conferma Alain "e considera OGX Fenix un modo per perdere peso coccolandosi e viziandosi un po'"
Non potremmo non essere d'accordo! Un piacere per il palato; quando un prodotto salutare è talmente buono, non si ha l'impressione di rinunciare a qualcosa, ma, al contrario, di prendersi cura di sé. 
Congratulazioni ad Alain, sua moglie e a tutti coloro che sono entrati nel gruppo Organo e che hanno iniziato la strada per diventare una versione migliore di sé con il supporto di Alain. Alain sa esattamente quello che vuol dire iniziare un percorso del genere e non può che essere un aiuto per aiutarvi a raggiungere i vostri scopi. In bocca al lupo a tutti quelli che, grazie a questa testimonianza,  hanno trovato l'ispirazione e la motivazione ad iniziare – sappiamo chi siamo!

#x4ever #x4life #xchallenge #Challenge
Alain de Smedt se despide del yo-yo para siempre
Alain de Smedt, de Bélgica, se dio cuenta de que la dieta de yo-yo no era ni saludable ni efectiva antes que la mayoría. Como distribuidor existente de ORGANO, fue uno de los primeros en enterarse de la emocionante llegada inminente de OGX Fenix ​​en Europa, y estaba ansioso por conocerlo. Cuanto más leía sobre los temblores, el plan y la ciencia detrás de ellos, más se daba cuenta de que esta podría ser la solución que había estado buscando para perder peso mientras cuidaba su salud.
"Sabía que si quería vender OGX Fenix, tenía que predicar con el ejemplo. Empecé a finales de julio de 2017 y había perdido 19,7 kg en tres meses ", recuerda con orgullo.
Al repasar su viaje, Alain cuenta cómo comenzó a tomar un batido OGX Fenix ​​por la mañana con su café negro ORGANO con infusión de ganoderma, y ​​otro por la tarde alrededor de las 6 p.m. con una taza de té verde ORGANO; eligiendo tener su comida saludable a la hora del almuerzo. En cuanto al ejercicio, Alain se inscribió en un desafío de tablas para asegurarse de que estaba abordando el lado de la dieta y el movimiento del estilo de vida OGX.
Avance rápido hasta el hito de un mes desde su primer batido OGX Fenix, y Alain dice: "Perdí 8,8 kg y recibí felicitaciones de mi séquito que me animó a perseverar". A menudo es este período de treinta días que hace o rompe a la gente , y para Alain ciertamente lo había hecho.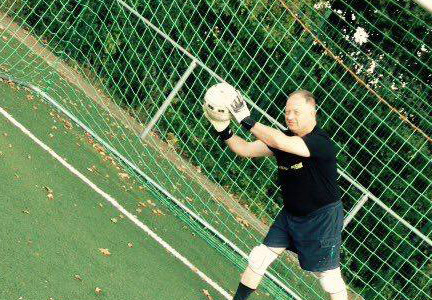 Hoy, Alain ha perdido un poco más de 20 kg en total. El cambio ha sido increíble, y describe cómo "se siente mucho mejor, cambió mi vestuario, ganó energía y flexibilidad, y fue capaz de reanudar el fútbol a los 54 años" como resultado de seguir con el plan.
"OGX Fenix ​​es el único producto que me ha dado una satisfacción del 100% en comparación con todas las otras dietas que he probado", explica. "Pronto voy a emprender otro desafío X4Ever de tres meses, ya que me he propuesto un nuevo objetivo de peso. Todavía estoy motivado porque sé que es por mi salud ".
En cuanto a su negocio ORGANO, Alain dice que continuará promocionando OGX Fenix ​​y presentando sus eventos conocidos como OGX Mixers. "He hablado mucho sobre los productos y he ganado varios clientes que estaban satisfechos con su propio éxito". Para comenzar, compartió sus conocimientos y aprovechó lo que le había ayudado a lo largo de su propio viaje. Contar su historia para motivar a los demás es una técnica que ha demostrado ser muy exitosa en toda la comunidad ORGANO, por lo que no sorprende que también haya funcionado bien para Alain.
"Creé mi propia lista de consejos llamada 'Consejos de Alain'", explica. "Le di la lista a cada uno de mis nuevos clientes, que fue inspirada por mi propia experiencia con OGX, como darse un plazo".
¡Incluso su esposa se ha subido a bordo! "Ahora ha perdido 11 kg", dice Alain, "y ve los batidos OGX Fenix ​​como perder peso mientras se complace a sí misma".
¡No podríamos estar más de acuerdo! Cuando los productos saludables son tan deliciosos, no tiene ganas de privarse; es simplemente cuidar tu cuerpo. ¡El regalo para tus papilas gustativas es solo una bonificación!
Felicitaciones a Alain, su esposa y todos los novatos de ORGANO que están en el camino de convertirse en la mejor versión de sí mismos con el apoyo de Alain. Ha estado donde estás, por lo que está perfectamente ubicado para ayudarte a alcanzar tus objetivos. ¡Buena suerte a cualquiera que esté inspirado por Alain y se sienta motivado para comenzar, sabemos que lo somos!

#x4ever #x4life #xchallenge #Challenge
Alain de Smedt fait ses adieux aux régimes yo-yo pour de bon
Alain de Smedt, de Belgique, a réalisé que les régimes yo-yo n'étaient ni sains ni efficaces depuis longtemps. En tant que distributeur indépendant ORGANO, il a été parmi les premiers à entendre parler de l'arrivée imminente d'OGX Fenix ​​en Europe, et était impatient d'en savoir plus. Plus il en apprenait au sujet des milkshakes proteines, du plan et la science derrière eux, plus il réalisait que cela pourrait justement être la solution qu'il cherchait pour perdre du poids tout en prenant soin de sa santé.
"Je savais que si je voulais vendre OGX Fenix, je devais donner l'exemple. J'ai commencé à la fin du mois de juillet 2017 et j'ai perdu 19,7 kg en trois mois », se souvient-il fièrement.
En revenant sur son voyage, Alain raconte comment il a commencé à prendre un OGX Fenix ​​le matin avec son ORGANO Black Coffee infusé au ganoderma, et un autre le soir vers 18h avec une tasse de thé vert ORGANO; choisissant d'avoir son repas sain à l'heure du déjeuner. En ce qui concerne l'activité physique, Alain s'est inscrit à un défi d'exercice de la planche pour s'assurer qu'il attaquait le régime et adoptait le mode de vie physique d'OGX à la fois.
Avance rapide à l'étape d'un mois depuis son premier shake OGX Fenix, et Alain dit: «J'avais perdu 8,8 kg et reçu des félicitations de mon entourage, qui m'encourageait à persévérer.» C'est souvent cette période de trente jours qui construit ou brise les gens et pour Alain, cela l'avait certainement construit.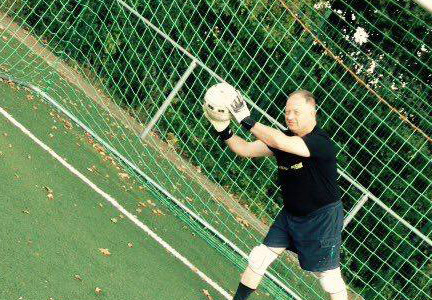 Aujourd'hui, Alain a perdu un peu plus de 20 kg au total. Le changement a été incroyable, et il décrit comment il «se sent beaucoup mieux, a changé sa garde-robe, a gagné de l'énergie et de la flexibilité et a pu reprendre le football à 54 ans» parce qu'il s'en tenait au plan.
"OGX Fenix ​​est le seul produit qui m'a donné 100% satisfaction par rapport à tous les autres régimes que j'ai essayés", explique-t-il. "Je vais bientôt entreprendre un nouveau défi de trois mois avec le XChallenge X4Ever alors que je me suis fixé un nouvel objectif de poids. Je suis toujours motivé parce que je sais que c'est pour ma santé. "
Quant à son activité ORGANO, Alain dit qu'il continuera absolument à promouvoir OGX Fenix ​​et à organiser ses événements connus sous le nom de OGX Mixers. «J'ai beaucoup parlé des produits et j'ai gagné plusieurs clients qui étaient satisfaits de leur propre succès.» Pour les faire démarrer, il a partagé ses connaissances et s'est inspiré de ce qui l'avait aidé tout au long de son parcours. Raconter votre histoire pour motiver les autres est une technique qui a connu un énorme succès au sein de la communauté d'ORGANO, donc ce n'est pas une surprise si cela fonctionne si bien pour Alain également.
"J'ai créé ma propre liste de conseils intitulée 'Les conseils d'Alain'", explique-t-il. "J'ai donné la liste à chacun de mes nouveaux clients, ce qui a été inspiré par ma propre expérience avec OGX, comme vous donner un délai."
Même sa femme s'est laissée embarquer dans l'aventure! "Elle a maintenant perdu 11kg," dit Alain, "et voit les milkshakes protéinés OGX Fenix ​​comme un bon moyen de perdre du poids en se faisant plaisir."
Nous ne pouvions pas être plus d'accord! Lorsque des produits sains sont aussi délicieux, il n'y a pas de raison de s'en priver; c'est simplement prendre soin de son corps. Le régal pour les papilles est juste un bonus!
Félicitations à Alain, à sa femme et à tous les débutants d'ORGANO qui sont en train de devenir la meilleure version d'eux-mêmes avec le soutien d'Alain. Il a été là où vous en êtes, il est donc parfaitement bien placé pour vous aider à atteindre vos objectifs. Bonne chance à tous ceux qui s'inspirent d'Alain et qui se sentent motivés pour commencer!

#x4ever #x4life #xchallenge #Challenge