Translations: Italian | Spanish|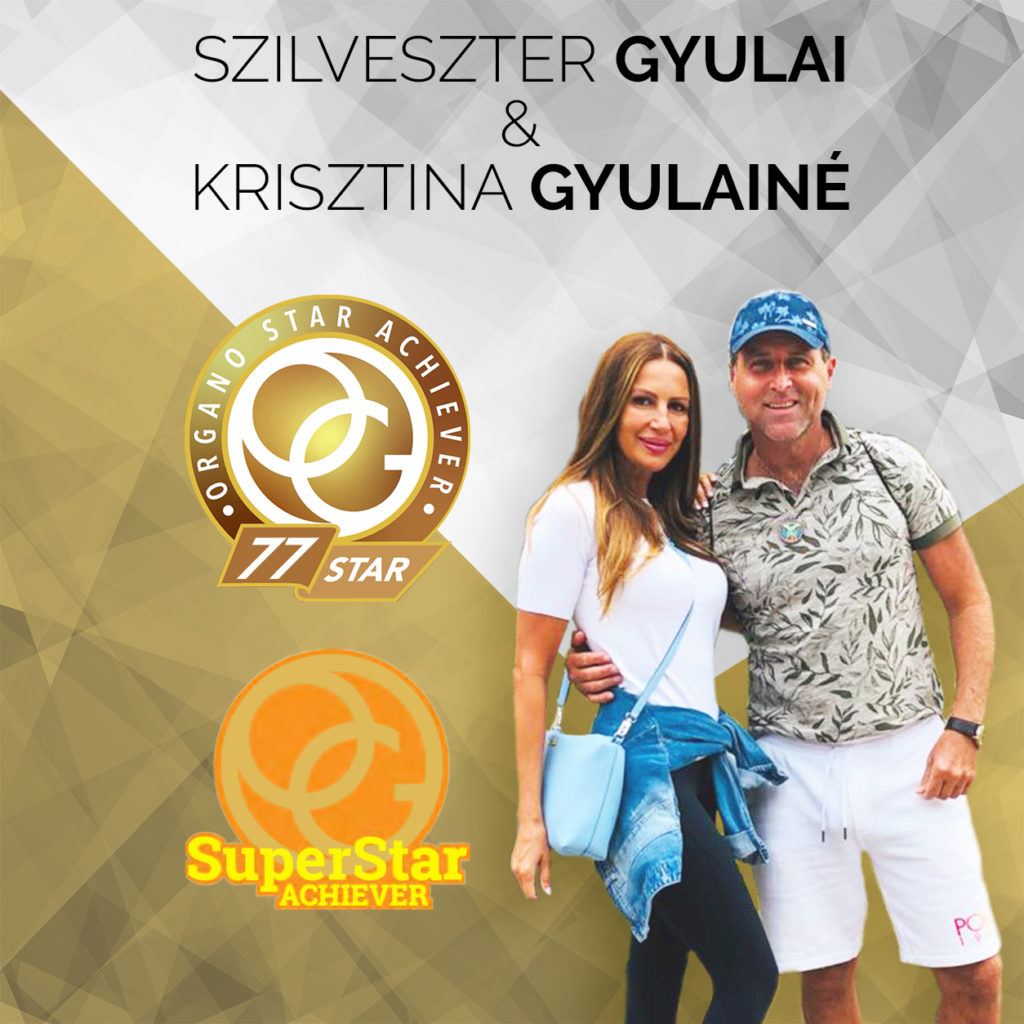 Szilveszter Gyulai and his wife Krisztina are partner in life and in business. They live in Budapest, Hungary and joined ORGANO™ in 2013 reaching together the rank of Diamond Consultant. They are married for 27 years and they have a gorgeous daughter.
Their passion and desire for revenge led them to success.
"Before Organo I owned a car showroom but 10 years ago, with the Global Bank Crisis I lost my whole company."
Despite the previous business experience did not end so easily, his positive attitude brought Szilveszter to embrace a new challenge. In just few years he gave birth to a great team of successful people that are contributing to the development of ORGANO™ all around the globe.
Szilveszter started the business knowing not much about it but with a high desire to succeed.
"At the beginning I did not understand this Business model, but I said to myself: This is my last big chance to be happy with my family and to reach a financial position that will make us sleep better at night."
They climbed up to the top in ORGANO™ and after reaching the Diamond Consultant qualification they are still qualifying Star Achiever and in September 2020 they reached the 77 Star celebrating more than 6 years in which they accumulate a totals of 450 points or more every month by retail customer orders combined with personal product orders. 
Having in place a winning culture, they show to the others team members the importance of being a Star Achiever.
"Since the beginning I understood that this Business was going to be successful because of the quality of the products and because we have great testimonials and important mentorship that can indicate the path to follow. We have a system and we just need to put it in place.
In Organo we have an important plan, the Star Achiever program, and I suggested my team to follow it, as I am doing."
Sharing the Gourmet Coffee Blends infused with Ganoderma with friends and guests, they achieved to be Super Star Achievers, having more than four personally sponsored downlines who are also, as they are, Star Achievers per calendar month.
"I invite everyday some friends and guests for a product tasting and while we drink a great cup of coffee I let them know about the big vision I have, about the financial possibility they could have with ORGANO™ and about our products with Ganoderma plus the possibility they have to feel incredible with the body management products.
I am 50 years old but I feel younger every day doing what I do now with Organo."
One of their biggest dream is to create a new generation of Diamonds, an entourage of people that will have the possibility to make the difference in their lives.
"I recommend to everybody:
1. Have a big dream, write it down and focus everyday on it;
2. Use All the product's category;
3. Read books every day;
4. Never give up!"
*Actual income resulting from the activity of Independent Distribution Partner will depend on the amount of time and effort an individual devotes to his/her business.
---
Szilveszter Gyulai e sua moglie Krisztina sono partner nella vita come nel business.
Vivono a Budapest, in Ungheria dove hanno iniziato la loro attività con ORGANO™ nel 2013 raggiungendo insieme la qualifica di Diamante. Sono sposati da 27 anni e hanno una figlia meravigliosa.
La loro passione ed il loro desiderio di rivalsa li hanno portati al successo.
"Prima di Organo possedevo uno showroom di automobili, ma 10 anni fa, con la crisi globale delle banche, ho perso l'intera azienda."
Nonostante la precedente esperienza lavorativa non sia finita nel migliore dei modi, l'atteggiamento positivo di Szilveszter lo ha portato ad accettare una nuova sfida. In pochi anni ha dato vita ad una grande squadra di persone di successo che stanno contribuendo allo sviluppo di ORGANO™ in tutto il mondo.
Szilveszter ha avviato l'attività non sapendone molto ma con un forte desiderio di arrivare al successo.
"All'inizio non capivo questo modello di business, ma mi sono detto: questa è la mia ultima grande occasione per essere felice con la mia famiglia e per raggiungere una posizione finanziaria che mi farà dormire meglio la notte".
Hanno scalato le vette in ORGANO™ raggiungendo la qualifica di Diamante e continuano a qualificare Star Achiever ogni mese. Ed è proprio nel mese di settembre del 2020 che hanno raggiunto la 77° Star festeggiando più di 6 anni in cui accumulano un totale di 450 punti o più ogni mese da ordini dei clienti al dettaglio combinati con ordini di prodotto personali.
Avendo creato una cultura vincente, mostrano mensilmente agli altri membri del team l'importanza di essere uno Star Achiever.
"Fin dall'inizio ho capito che questo Business avrebbe avuto successo per la qualità dei prodotti e perché abbiamo grandi testimonial e importanti mentori che possono indicare la strada da seguire. Abbiamo un sistema da seguire e dobbiamo solo metterlo in pratica.
In Organo abbiamo un piano importante, il programma Star Achiever, ed io ho suggerito al mio team di seguirlo, come sto facendo io stesso ".
Condividendo le miscele di caffè gourmet infuse con Ganoderma con amici e ospiti, sono riusciti a diventare Super Star Achievers, avendo mensilmente più di quattro downline sponsorizzate personalmente Star Achievers.
"Invito ogni giorno alcuni amici e ospiti per una degustazione di prodotti e mentre beviamo un ottimo caffè, condivido con loro la mia grande visione, le possibilità finanziarie che potrebbero avere con ORGANO™ e i nostri prodotti con Ganoderma oltre che la possibilità di avere risultati con i nostri incredibili prodotti sostituitivi del pasto.
Ho 50 anni e mi sento più giovane di giorno in giorno facendo quello che faccio ora con Organo".
Uno dei loro sogni più grandi è creare una nuova generazione di Diamanti, un entourage di persone che avranno la possibilità di fare la differenza nelle loro vite.
"Consiglio a tutti:
1. Abbiate un grande sogno, scrivetelo su carta e concentratevi ogni giorno su di esso;
2. Utilizzate tutta la gamma di prodotti;
3. Leggete libri ogni giorno;
4. Non mollate mai! "
*Il reddito effettivo derivante dall'attività di Incaricato Partner Indipendente alle Vendite dipenderà dalla quantità di tempo e sforzo che un individuo dedica alla propria attività.
---
Szilveszter Gyulai y su esposa Krisztina son socios tanto en la vida como en el negocio.
Viven en Budapest, Hungría, donde comenzaron el negocio con ORGANO™ en 2013 y alcanzaron la calificación de Consultor Diamante juntos. Han estado casados ​​durante 27 años y tienen una hija maravillosa.
Su pasión y su sed de revancha lo han llevado al éxito.
"Antes de Organo tenía un concesionario de coches, pero hace 10 años, con la crisis bancaria mundial, perdí la empresa".
Aunque su experiencia laboral anterior no terminó de la mejor manera, la actitud positiva de Szilveszter lo llevó a aceptar un nuevo desafío. En solo unos años ha formado un gran equipo de personas exitosas que están contribuyendo al desarrollo de ORGANO™ en todo el mundo.
Szilveszter comenzó el negocio sin saber mucho pero con un fuerte deseo de lograr el éxito.
"Al principio no entendía este modelo de negocio, pero me dije a mí mismo: esta es mi última gran oportunidad de ser feliz con mi familia y alcanzar una posición financiera que me permita dormir bien por la noche".
Han subido hasta la cima en ORGANO™ alcanzando el rango de Consultor Diamante y continúan calificando como Star Achiever todos los meses. Y es precisamente en septiembre de 2020 que alcanzaron la 77 Star celebrando más de 6 años que acumulan un total de 450 puntos o más cada mes de pedidos de clientes minoristas combinados con pedidos de productos personales.
Han creado una cultura ganadora y muestran a otros miembros del equipo mensualmente la importancia de ser un Star Achiever.
"Desde el principio entendí que este negocio sería exitoso por la calidad de los productos y porque tenemos grandes testimonios e importantes mentores que pueden indicar el camino a seguir. Tenemos un sistema a seguir y solo tenemos que ponerlo en práctica.
En Organo tenemos un plan importante, el programa Star Achiever, y sugerí que mi equipo lo siguiera, como yo lo estoy haciendo."
Al compartir mezclas de café gourmet con infusión de Ganoderma con amigos e invitados, han logrado convertirse en Super Star Achievers, con más de cuatro líneas descendentes Star Achievers patrocinadas personalmente por mes.
"Todos los días invito a algunos amigos e clientes a una degustación de productos y mientras tomamos un gran café les comparto mi gran visión, las posibilidades económicas que podrían tener con ORGANO™ y nuestros productos con Ganoderma así como la posibilidad de tener resultados con nuestros increíbles productos sustitutivos de comidas.
Tengo 50 años y me siento más joven día a día haciendo lo que hago ahora con Organo".
Uno de sus mayores sueños es crear una nueva generación de Diamantes, un séquito de personas que tendrán la oportunidad de marcar la diferencia en sus vidas.
"Les aconsejo a todos:
1. Tenga un gran sueño, escríbalo en un papel y concéntrese en él todos los días;
2. Utilice la gama completa de productos;
3. Leer libros todos los días;
4. ¡Nunca te rindas! "
*El ingreso real resultante de la actividad de Socio Partner independiente de Mercadeo, dependerá de la cantidad de tiempo y esfuerzo que un individuo dedica a su negocio.
---