Translations: Italian | Spanish | German| Hungarian|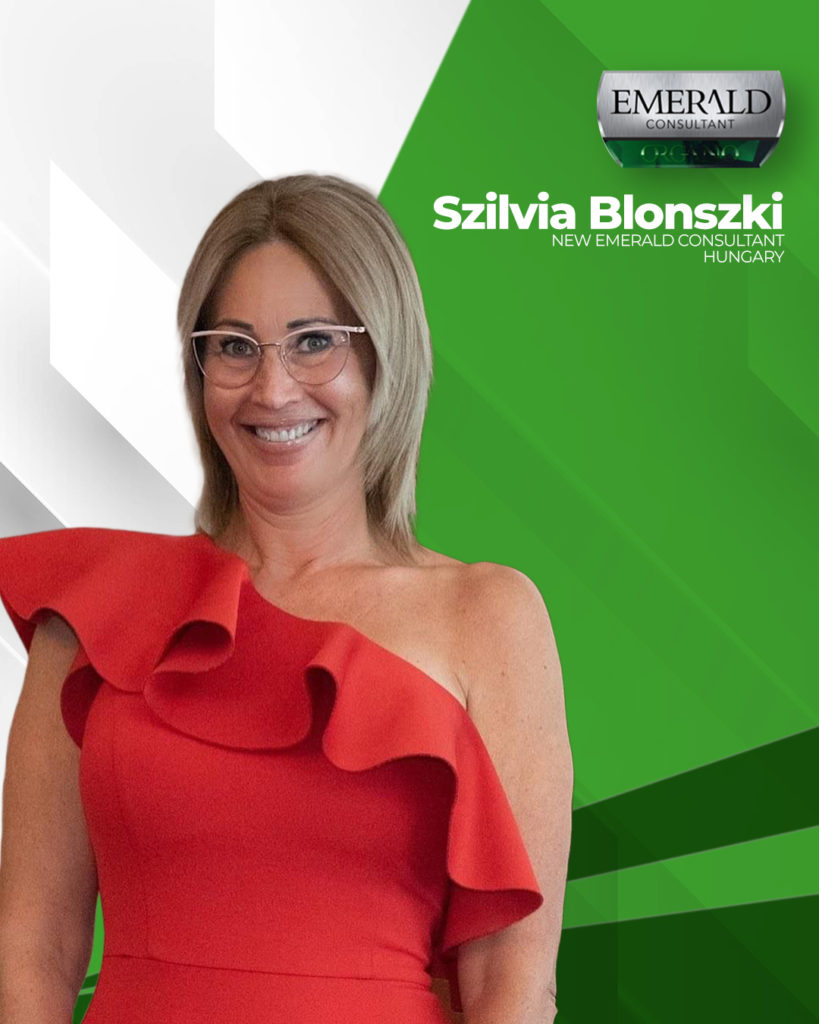 49-years old Szilvia Blonszki has been a single mother for the last 17 years to her 22-years old daughter and 19-years old son. They form and very united family as they all live together and her children are extremely proud of her and the sacrifices she made.
Szilvia has worked for 27 years as a bartender and as a waitress. She had 15-hour shifts, 5 to 6 days a week resulting in seeing very little of her children and having to accept her own parent's help to raise them and take care of them. She joined Organo and only 8 months later, she became a Sapphire and was able to finally quit her job and finally have a different quality of life.
2 years after starting with Organo, she achieved the rank of Ruby and she has now proudly made it as Emerald. Szilvia says "I consistently put in the daily work needed every single day. I studied and I focus on the goal I set. I read 72 books, I listen to audio material, and I was there to each and every Super Saturday, coffee nights and to every training session. I was hungry for success!! I also help and support the team every day". She helps her team with everything, and they regularly go over each other's houses and they work together. They together organise coffee parties in different cities and they have had 3 new Sapphires within the team between September and October and they all 3 qualified for cycles 1 and 2 of the Global Growth Bonus.
Szilvia's Dream-Goal is to become a Crown Ambassador. She says "You need to put in the work every day. You have to build your faith and your desire and move step by step towards the realisation of your dream".
Szilvia has accomplished so much that we, at Organo, have no doubt that she can make all her goals come true. Congratulations Szilvia for another amazing achievement.
Italian
Szilvia Blonszki, 49 anni, è stata una madre single negli ultimi 17 anni,  con la figlia di 22 anni e il figlio di 19 anni. Formano una famiglia molto unita poiché vivono tutti insieme e i suoi figli sono estremamente orgogliosi di lei e dei sacrifici che ha fatto.
Szilvia lavora da 27 anni come barista e cameriera. Aveva turni di 15 ore, da 5 a 6 giorni alla settimana, con il risultato di vedere molto poco i suoi figli e di dover accettare l'aiuto dei suoi stessi genitori per allevarli e prendersi cura di loro. È entrata a far parte di Organo e solo 8 mesi dopo è diventata una Sapphire ed è stata finalmente in grado di lasciare il lavoro e avere finalmente una qualità di vita diversa.
Due  anni dopo aver iniziato con Organo, ha raggiunto il rango di Ruby e ora l'ha raggiunto con orgoglio come Emerald. Szilvia afferma: "Faccio costantemente il lavoro quotidiano necessario ogni singolo giorno. Ho studiato e mi concentro sull'obiettivo che mi sono prefissata. Ho letto 72 libri, ascolto materiale audio ed ero presente a ogni Super Saturday, coffee night e ad ogni sessione di allenamento. Avevo fame di successo!! Inoltre aiuto e sostengo la squadra ogni giorno". Aiuta la sua squadra in tutto e si controllano regolarmente a vicenda e lavorano insieme. Insieme organizzano coffee party in diverse città e hanno avuto 3 nuovi Zaffiri all'interno del team tra settembre e ottobre e tutti e 3 si sono qualificati per i cicli 1 e 2 del Global Growth Bonus.
Il sogno di Szilvia è diventare un Crown Ambassador. Dice "Devi impegnarti ogni giorno. Devi costruire la tua fede e il tuo desiderio e muoverti passo dopo passo verso la realizzazione del tuo sogno".
Szilvia ha realizzato così tanto che noi di Organo non abbiamo dubbi che possa realizzare tutti i suoi obiettivi. Congratulazioni Szilvia per un altro straordinario risultato.
Hungarian
A 49 éves Blonszki Szilvia az elmúlt 17 évben egyedülálló anyja 22 éves lányának és 19 éves fiának. Nagyon összetartó családot alkotnak, hiszen mindannyian együtt élnek, és gyermekei rendkívül büszkék rá és az általa hozott áldozatokra.
Szilvia 27 évet dolgozott pultosként és pincérnőként. 15 órás műszakban, heti 5-6 napot, ami azt eredményezte, hogy nagyon keveset láthatta gyermekeit, és el kellett fogadnia a saját szülei segítségét, hogy felnevelje és gondoskodjon róluk. Csatlakozott az Organo-hoz, és csak 8 hónap alat Sapphire lett, és végre felmondhatott a munkahelyén, és más életminőséget kapott.
2 évvel azután, hogy az Organo-val kezdett dolgozni, megszerezte a Rubnit rangot, és most büszkén szerezte meg a Smaragdot. Szilvia azt mondja: "Következetesen beleteszem a szükséges napi munkát minden egyes nap. Tanultam, és a kitűzött célra koncentrálok. 72 könyvet elolvastam, hanganyagot hallgatok, és ott voltam minden Szuperszombaton, kávézón és minden edzésen. Ki voltam éhezve a sikerre!! Minden nap segítem és szurkolok a csapatnak". Mindenben segíti a csapatát, rendszeresen járnak egymás házába és dolgoznak együtt. Együtt szerveznek kávépartikat különböző városokban, és szeptember és október között 3 új Sapphire is volt a csapaton belül, és mindhárman kvalifikálták magukat a Globális Növekedési Bónusz 1. és 2. ciklusára.
Szilvia álma, hogy Koronanagykövet legyen. Azt mondja: "Minden nap dolgozni kell. Építened kell a hitedet és a vágyadat, és lépésről lépésre haladni álmod megvalósítása felé."
Szilvia annyi mindent elért, hogy nekünk, az Organonál nincs kétségünk afelől, hogy minden célját meg tudja valósítani. Gratulálunk Szilviának az újabb csodálatos eredményhez.
German
Die 49-jährige Szilvia Blonszki ist seit 17 Jahren alleinerziehende Mutter ihrer 22-jährigen Tochter und ihres 19-jährigen Sohnes. Sie bilden eine sehr vereinte Familie, da sie alle zusammenleben und ihre Kinder sehr stolz auf sie und die Opfer sind, die sie gebracht hat.
Szilvia hat 27 Jahre als Barfrau und als Kellnerin gearbeitet. Sie hatte 15-Stunden-Schichten, 5 bis 6 Tage die Woche, was dazu führte, dass sie sehr wenig von ihren Kindern sah und die Hilfe ihrer eigenen Eltern annehmen musste, um sie großzuziehen und sich um sie zu kümmern. Sie trat Organo bei und nur 8 Monate später wurde sie ein Saphir und konnte endlich ihren Job kündigen und endlich eine andere Lebensqualität haben.
2 Jahre nachdem sie mit Organo begonnen hatte, erreichte sie den Rang eines Rubins und hat es nun stolz als Emerald geschafft. Szilvia sagt: "Ich stecke jeden Tag konsequent die tägliche Arbeit, die ich brauche. Ich habe studiert und konzentriere mich auf das Ziel, das ich mir gesetzt habe. Ich habe 72 Bücher gelesen, mir Audiomaterial angehört und war bei jedem Super Saturday, Coffee Night und bei jedem Training dabei. Ich war hungrig nach Erfolg!! Außerdem helfe und unterstütze ich das Team jeden Tag." Sie hilft ihrem Team bei allem, und sie gehen regelmäßig gegenseitig zu Hause vorbei und arbeiten zusammen. Sie organisieren gemeinsam Kaffeepartys in verschiedenen Städten und hatten zwischen September und Oktober 3 neue Saphire im Team, die sich alle für die Zyklen 1 und 2 des Global Growth Bonus qualifiziert haben.
Szilvias Traumziel ist es, Kronbotschafterin zu werden. Sie sagt: "Du musst jeden Tag arbeiten. Du musst deinen Glauben und deinen Wunsch aufbauen und dich Schritt für Schritt der Verwirklichung deines Traums nähern."
Szilvia hat so viel erreicht, dass wir bei Organo keinen Zweifel daran haben, dass sie all ihre Ziele verwirklichen kann. Herzlichen Glückwunsch Szilvia für eine weitere erstaunliche Leistung.
Spanish
Szilvia Blonszki, de 49 años, ha sido madre soltera durante los últimos 17 años de su hija de 22 años y su hijo de 19 años. Forman una familia muy unida ya que todos viven juntos y sus hijos están muy orgullosos de ella y de los sacrificios que hizo.
Szilvia ha trabajado durante 27 años como barman y camarera. Tenía turnos de 15 horas, de 5 a 6 días a la semana, por lo que veía muy poco a sus hijos y tenía que aceptar la ayuda de sus propios padres para criarlos y cuidarlos. Se unió a Organo y solo 8 meses después, se convirtió en Zafiro y finalmente pudo dejar su trabajo y finalmente tener una calidad de vida diferente.
2 años después de comenzar con Organo, alcanzó el rango de Rubí y ahora orgullosamente lo ha logrado como Esmeralda. Szilvia dice: "Constantemente pongo el trabajo diario necesario todos los días. Estudié y me enfoco en la meta que me propuse. Leí 72 libros, escuché material de audio y estuve allí en todos y cada uno de los Súper Sábados, noches de café y en todas las sesiones de entrenamiento. ¡¡Tenía hambre de éxito!! También ayudo y apoyo al equipo todos los días". Ella ayuda a su equipo con todo, y regularmente revisan las casas de los demás y trabajan juntos. Juntos organizan fiestas de café en diferentes ciudades y han tenido 3 nuevos Zafiros dentro del equipo entre septiembre y octubre y los 3 calificaron para los ciclos 1 y 2 del Bono de Crecimiento Global.
El objetivo soñado de Szilvia es convertirse en Embajadora Corona. Ella dice: "Tienes que esforzarte todos los días. Tienes que construir tu fe y tu deseo y avanzar paso a paso hacia la realización de tu sueño".
Szilvia ha logrado tanto que nosotros, en Organo, no tenemos ninguna duda de que puede hacer realidad todas sus metas. Felicidades Szilvia por otro increíble logro.