Translations: Italian | Hungarian|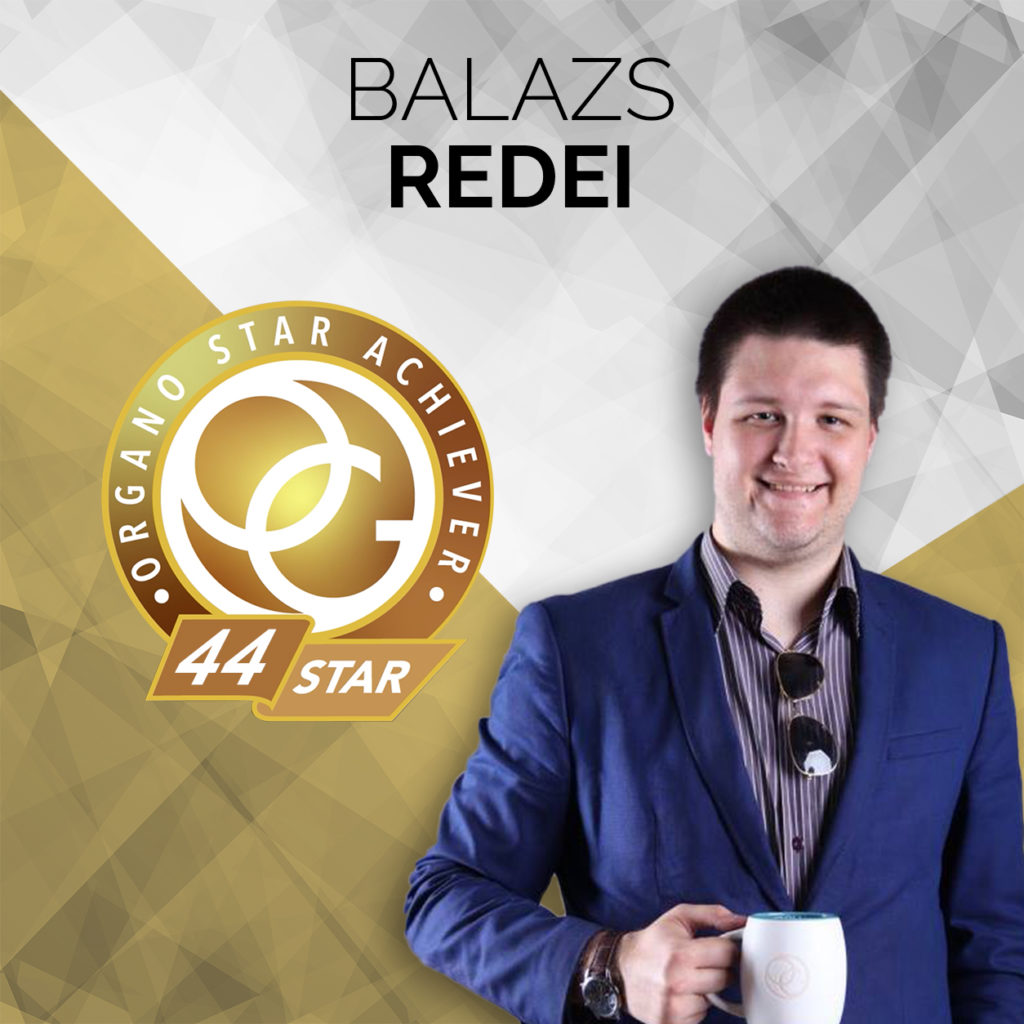 What did you do before working with ORGANO™?
I worked as an Incident Manager for an airline company, 6 days out of 7.
Alongside that I went to university – IT engineering – and I've also been doing Karate for almost 20 years, so I've been training, exercising and coaching, while running a project part-time and even leading an Online Team.
So I did quite a lot of things and had a busy schedule. I had days where I'd get up at 4am and get home at midnight and then the next day it's start all over again. I wanted to get out of that rat race.

I was thinking about traditional businesses and what to do. But I saw that even if my business going to be successful, I wouldn't have enough time to do what I wanted to do, it's a rat race as well, difference is I'm just doing it for myself, because most of the entrepreneurs have absolutely no time for anything. I was looking at what I could do and that's when I was invited for a coffee "accidentally".
I didn't drink coffee before OG (I love it now) but I saw the simplicity of it and the seriousness of the business. So I finally decided to start working with ORGANO™ as a third part-time business.
I created a few customers as I found the product to be really delicious and effective. So I finally left my job after more than 1 year. Having the unlimited free time is an amazing feeling, while the money kept flowing.
Since I've been with ORGANO™ I've been able to travel several times for several months to Asia, America, and countless places in Europe. My last major trip was the OG GETAWAY Incentive trip to Bali and an incentive to the OG Office in London.
What is the reason for you being a STAR ACHIEVER?
I think this is one of the foundations of the rock solid stability of our business. By serving customers who love our product and have an amazing product experience, they buy it again and again every single month. It's a practical way of actually helping people with Ganoderma and the other products, because with every product testimonials it's clear how much it means to them and we can change their lives for a better.
It's a win-win situation, as well as being totally worth it for the consumer, it gives our business a steady cash flow, keeps us in workflow, and so we maintain the activity that we need to keep building our business.
It's inevitable, by the time, that we' cannot not to be Star Achievers if we're really active in doing our job, in growing our customer base.
This gives you a basic passive income, which can be good money for many people. So this program is a good milestone in the ranks, it helps keep us focused and push us upwards to build our base.
We can use it to take advantage of countless promotions, travels, get extra money or free products if we're Stars, it's not worth not being a Star Achiever. The extra rewards we get from being a Star Achiever, like the Bulova watch or the Star Trophies. I think are the jewels in the crown that represents we've done something for people's lives.

How did you do it? How did you build your business?
There's no big secret to being a Star Achiever. I was constantly holding meetings, coffee parties, giving samples to people. Next, You have to follow-up with these people – perhaps the most important thing of all, there's more important than just giving a sample – talk to them, build relationships, ask for product testimonials. And the effect of all this is that if you keep meeting new people, you will inevitably end up with enough costumers to reach the Star Achiever. In fact, we'll outsell it, and we'll have more and more consumers who will recommend the product to others, so we'll keep the rank up.
To be honest, for me, Star Achiever didn't happened right away. I had a few consumers, but I was still a long way from star volume. I was mainly focused on building business partners, so I reached leadership ranks before I became a consistent star. However, I realised that I needed to build more costumers and duplicate that in the team, as that's what gives us stability, that's what gives us continued passive income in our business, so I started putting energy into that as well.
Month by month, step by step, always hustling to get more and more volume (through contests, promotions, finding new people, etc.) One time I had the star, then I didn't, until I finally reached the point where I was getting enough sales every month that it was no longer an issue. So after a while the question became how many stars I can create in a month? Or can I get record volumes? And eventually that helped me to get to the Sapphire Leadership level and continue to grow.

If somebody says "no" to the business, they can be also good costumers, don't forget that.
Let's serve them with love. Let's constantly work to have that loyal customer base that makes us Star Achievers even if we go to Asia for a month, because there are just so many people ordering that it's a "considered done". In the meantime, we can focus heavily on building the business, teaching it, duplicate it, and getting more people to our team, which will help them as well to reach their goals, so we can help each other to become Super Star Achievers and move up the ranks to reach bigger dreams.
What are your three tips for success?
Consistency is the key that brings real success, not the explosive rare actions. Just because you take a shower for 2 hours on Monday doesn't mean you don't have to bath for the rest of the week.
I've been doing karate for almost 20 years and many people are always amazed at how hard it can be to get a black belt. Consistency is the key. You don't have to push all day and all night for a week at a time, you have to push steadily, consistently, until you get what you want, but don't expect to be a black belt in 1 month or 1 year.

ORGANO™ also has 4 steps for success, a minimum of 4 new people per week for 18 months. If you consistently stick to that and do it, there's no such thing as not achieving success. You have to give it the time, the perseverance, the constant actions. Of course we have to bring energy, passion, faith, but our leader is with us helping us on the way. Especially in today's online world, this has become even easier.
Linked to this, commitment is also a key factor, which is also an important part of sticking to your decision.

The other is finding our real Why. When I started with ORGANO™, I was immediately moved forward by my own Why, which I didn't know was called that at the time – I didn't start because of a particular person or an "it might be good".
I knew that if someone else can do it, without a Phd degree, I can do it as well. I can achieve my goals.
The real Why is what makes you cry, what makes you go through the fire and the wall, and they can't discourage you from your goals no matter what. We have to be prepared for that, because there will be low points in your life and in your business when you might give up or have difficulties, and it's your Why that helps you to push through.
I didn't depend on the thoughts of others who told me not to do it or that it's all stupid and I'm crazy. Because my Why and my Goal was much stronger than other people's opinions.
If that inner burning desire and Why is bulletproof, our business becomes bulletproof as well.
And the third thing I would highlight is self-discipline. In today's world, there are so many distractions around us, there's always something to do, it's easy to get busy. We have to learn the self-discipline, the use of priorities, to do what we need to do even when we don't feel like it – or even when we would say we don't have the time. If we master self-discipline, all areas of our lives can undergo a major transformation, and we can build our business to a major high level, because we build it with focus and awareness, not hectically and emotionally changing.
Where do you see your future at ORGANO™?
I have big dreams and I can tell you a lot about it. My absolute goal is to reach the highest level, which is Crown Ambassador. After that, more opportunities will open up for me to build my life, all while helping others.
One of my ultimate goals is to have at least 10 families on my team who are earning millions of dollars with ORGANO™.
I know how hard this is, how much time it takes and it won't happen overnight. But I see that with ORGANO™ it is possible, everything is there, we just need to make the system work for us. We have to constantly improve ourselves and our environment, persistently, with goal settings, and do it again and again, and not be influenced by external factors, because that is perhaps the most dangerous factor in the world today. It is easy to lose focus, to get distracted, and time goes by at a glance.

About the Star Achiever Program, I would like to have 4 Super Star Achievers on my team.

Looking at it in small steps of course, my first priority is reach the next rank.

Thank you to ORGANO™ and to the leaders for creating this life-changing opportunity, and thank you for the support, for the transparency, integrity, and for treating us distributors as partners, not as outsiders. This high quality and standard that ORGANO™ is constantly developing, representing and creating is, I think, an absolutely unique leading example in the today's world.
---
Cosa facevi prima di lavorare con ORGANO™?
Lavoravo come Incident Manager per una compagnia aerea, 6 giorni su 7. Parallelamente andavo all'università – Ingegneria informatica – praticavo Karate da oltre 20 anni, gestivo un progetto part-time e persino guidavo un team online. Ho fatto diverse cose e avevo un programma fitto di appuntamenti. Alcuni giorni mi alzavo alle 4 del mattino e tornavo a casa a mezzanotte, poi il giorno dopo ricominciava tutto da capo. Cercavo una soluzione a questa corsa senza fine.
Pensavo di aprire un'attività tradizionale ma poi ho capito che anche se la mia attività avesse avuto successo, non avrei abbastanza tempo per fare ciò che volevo fare, anche questa sarebbe stata una corsa senza fine, la differenza è che lo avrei fatto solo per me stesso, perché la maggior parte degli imprenditori non hanno assolutamente tempo per fare cose al di fuori del loro lavoro.
Un giorno sono stato invitato a prenere un caffè per puro caso. Premetto che non bevevo caffè prima di OG (lo adoro ora) ma ho capito la semplicità e la serietà del business. Così ho finalmente deciso di iniziare a lavorare con ORGANO™ come terza attività part-time.
Ho creato i miei clienti perché hanno trovato il prodotto delizioso ed efficace. Poi ho finalmente lasciato il mio lavoro, dopo più di 1 anno. Avere tempo libero illimitato è una sensazione incredibile, mentre il guadagno continua ad arrivare.
Da quando sono con ORGANO™ ho potuto viaggiare più volte per diversi mesi in Asia, America e innumerevoli paesi in Europa. Il mio ultimo viaggio importante è stato il viaggio incentivo OG GETAWAY a Bali ed un incentivo all'ufficio OG di Londra.
Qual è il motivo per cui sei uno STAR ACHIEVER?
Penso che questo programma sia uno dei fondamenti per creare un'attività solida e stabile. Adoro offrire ai clienti una grande esperienza e dare loro un prodotto che amano, in tal modo continueranno ad acquistarlo ogni mese. È un modo pratico per aiutare le persone a ricevere prodotti al Ganoderma e le testimonianze sono la prova di cosa significhi e come possa cambiare la loro vita in meglio.
È una situazione vantaggiosa per tutti, oltre a valerne la pena per il consumatore, offre alla nostra attività un flusso di guadagno costante, ci mantiene nel flusso di lavoro e ci porta a mantenere l'attività. È inevitabile essere uno Star Achievers quando si è davvero attivi nel fare questo lavoro, nel far crescere la base di clienti. Questo crea un reddito passivo di base, che può essere un buon guadagno per molte persone. Il programma è una buona pietra miliare anche per costruire una qualifica, ci aiuta a rimanere concentrati e ci spinge verso l'alto.
Possiamo usarlo per approfittare di innumerevoli promozioni, viaggi, ottenere un denaro extra o prodotti gratuiti se siamo Star Achievers, non vale la pena non essere uno Star Achiever. I premi extra che otteniamo dall'esserlo, come l'orologio Bulova o i Trofei sono i gioielli che rappresentano il nostro impegno nella vita delle persone.
Come hai fatto? Come hai costruito la tua attività?
Non ci sono ricette magiche da seguire per diventare uno Star Achiever. Tenevo costantemente riunioni, coffee party, distribuivo campioni di prodotto alle persone. Successivamente, seguivo con interesse queste persone – forse questa è la cosa più importante di tutte – parlavo con loro, costruivo relazioni, chiedevo testimonianze dei prodotti. Essere uno Star Achiever significa incontrare nuove persone ed avere clienti. Avere ogni giorno più consumatori si traduce in mantenere la qualifica.
Ad essere onesti, per me, lo Star Achiever non è arrivato subito. Avevo alcuni consumatori, ma ero ancora molto lontano dal volume di uno Star. Ero concentrato principalmente sulla creazione di partner commerciali, quindi ho raggiunto prima la qualifica dello Star. Tuttavia, mi sono reso conto che avevo bisogno di avere più clienti e duplicarne la creazione nel team, poiché questo è ciò che ci dà stabilità, è ciò che ci dà un reddito passivo continuo nella nostra attività, cosi ho iniziato a focalizzarmi su questo.
Mese dopo mese, passo dopo passo, mi sono impegnato per ottenere maggiori volumi di vendita (attraverso concorsi, promozioni, nuove persone, ecc.) Una volta ho raggiunto lo Star, poi l'ho perso, finché ho raggiunto il punto in cui avevo vendite costanti ogni mese. Quindi dopo poco la domanda è diventata "quante Star posso creare in un mese?" o "posso ottenere volumi record?" E alla fine questo mi ha aiutato a raggiungere la qualifica di Zaffiro e a continuare a crescere.
Se qualcuno dice di "no" all'attività, può anche essere un buon cliente, non dimenticarlo.
Tratta il cliente con amore. Lavorare costantemente per avere quella base di clienti fedeli ci rende Star Achievers anche se andiamo in Asia per un mese. Nel frattempo, possiamo concentrarci sulla costruzione del business, insegnarlo, duplicarlo e coinvolgere più persone nel nostro team, il che aiuterà anche loro a raggiungere i loro obiettivi, così possiamo aiutarci a vicenda a diventare Super Star Achievers e avanzare di livello per raggiungere sogni più grandi.
Quali sono i tuoi tre suggerimenti per il successo?
La coerenza è la chiave che porta al vero successo, non le azioni sporadiche ed esplosive. Solo perché fai la doccia per 2 ore il lunedì non significa che non devi fare il bagno per il resto della settimana.
Faccio karate da quasi 20 anni e molte persone si stupiscono di quanto possa essere difficile arrivare alla cintura nera. La coerenza è la chiave. Non devi creare azioni per tutto il giorno e la notte per una sola settimana al mese, devi spingere costantemente fino ad ottenere quello che ti sei prefissato, ma non aspettarti di essere una cintura nera in 1 mese o in 1 anno .
ORGANO™ ha un sistema di 4 passi per arrivare al successo, creare un minimo di 4 nuove persone a settimana per 18 mesi. Se ti attieni costantemente al piano e lo fai, raggiungerai il successo. Devi dargli tempo, essere perseverante, fare azioni costanti. Ovviamente dobbiamo portare energia, passione, fede, ma il nostro leader di riferimento è con noi e ci aiuterà nel cammino. Soprattutto nel mondo online di oggi, questo è diventato ancora più facile. Collegato a questo, anche l'impegno è un fattore chiave, che è anche una parte importante del rimanere fedeli alla propria decisione.
L'altro è trovare il nostro vero perché. Quando ho iniziato con ORGANO™, sono stato immediatamente spinto avanti dal mio perché, che all'epoca non sapevo si chiamasse così – non ho iniziato perché me lo ha detto una persona in particolare o perchè "poteva essere una cosa buona". Sapevo che se qualcun altro poteva raggiungere i propri obiettivi, senza avere un dottorato di ricerca, potevo farlo anche io. Il vero Perché è ciò che ti fa piangere, ciò che ti fa passare attraverso il fuoco e i muri, e non possono scoraggiarti dai tuoi obiettivi, qualunque cosa accada. Dobbiamo essere preparati per questo, perché ci saranno alti e bassi nella vita e nell'attività in cui potremmo arrenderci o avere difficoltà, ed è il tuo motivo che ti aiuterà ad andare avanti.
Non ho mai dato ascolto alle idee degli altri quando mi dicevano di non farlo, che non era la strada giusta o che ero semplicemente pazzo. Perché il mio perché e il mio obiettivo erano molto più forti delle opinioni degli altri. Quando il tuo desiderio ardente interiore e il tuo perché sono a prova di proiettile, anche la tua attività lo diventa.
E la terza cosa che vorrei evidenziare è l'autodisciplina. Nel mondo di oggi, ci sono tante distrazioni intorno a noi, c'è sempre qualcosa da fare, è facile perdersi. Dobbiamo imparare l'autodisciplina, l'uso delle priorità, per fare ciò che dobbiamo fare anche quando non ne abbiamo voglia – o anche quando diremmo che non abbiamo il tempo. Se padroneggiamo l'autodisciplina, tutte le aree della nostra vita possono subire una grande trasformazione e possiamo costruire la nostra attività ad alti livelli, perché la costruiamo con concentrazione e consapevolezza, non in modo frenetico ed emotivo.
Dove vedi il tuo futuro in ORGANO™?
Ho grandi sogni al riguardo. Il mio obiettivo è raggiungere il livello più alto, che è l'Ambasciatore Corona. Dopodiché, mi si apriranno nuove opportunità per costruire la mia vita, il tutto aiutando gli altri.
Uno dei miei obiettivi più alti è avere almeno 10 famiglie nel mio team che guadagnano milioni di dollari con ORGANO™.
So quanto sia difficile, quanto tempo ci vuole e che non succederà dall'oggi al domani. Ma vedo che con ORGANO™ è possibile, c'è tutto, dobbiamo solo far funzionare il sistema per noi stessi. Dobbiamo migliorare costantemente noi ed il nostro ambiente, in modo persistente, impostando i nostri obiettivi, e farlo ancora e ancora senza essere influenzati da fattori esterni, perché questo è forse il fattore più pericoloso al mondo oggi. È facile perdere la concentrazione, distrarsi e vedere il tempo scorre velocemente.
Riguardo al programma Star Achiever, vorrei avere 4 Super Star Achiever nella mia squadra. Il tutto, ovviamente, a piccoli passi. Il mio prossimo traguardo è raggiungere la qualifica successiva. Grazie ad ORGANO™ e ai Leader per aver creato questa opportunità che può cambiare la vita. Grazie per il supporto, per la trasparenza, l'integrità e per trattare noi Incaricati come partner, non come estranei. Questi sono standard di alta qualità che ORGANO™ sviluppa, rappresenta e crea costantemente. Un azienda che si pone come esempio di guida unico nel mondo di oggi.
---
Mit csináltál az ORGANO™ előtt?
Az ORGANO™ előtt Incidens managerként dolgoztam egy légitársaságnál, 7-ből 6 napot. Mellette egyetemre jártam – mérnök-infó szakra -, emellett majdnem 20 éve már karatézok, így edzéseket tartottam és edzettem, vittem mellékállásban egy projektet is és még egy Online Csapatot is vezettem.

Tehát meglehetősen sok mindent csináltam és sűrű volt a beosztásom. Voltak olyan napjaim hogy reggel 4-kor keltem, és éjfélre értem haza, aztán másnap kezdődött minden újra. Ebből a mókuskerékből akartam kiszabadulni.

Gondolkodtam hagyományos vállalkozásokon hogy mit csináljak. De láttam, hogy ha még sikeres is lesz a businessem, akkor se lesz elegendő időm arra amit szeretnék, mert az is egy mókuskerék, csak saját magamnak csinálom, hiszen a legtöbb vállalkozónak abszolút nincs ideje semmire. Kerestem a lehetőséget mit lehetne és ekkor hívtak meg egy kávéra.
OG előtt nem kávéztam (mostmár imádok) viszont megláttam benne az egyszerűséget, és az üzlet komoly nagyságát. Így végül úgy döntöttem, hogy harmadállásban elkezdtem az Organoval foglalkozni.
Lett pár törzsvásárlóm és fogyasztóm mivel azt tapasztaltam hogy a termék tényleg finom és hatásos. Így végül kicsit több mint 1 év után otthagytam a munkahelyem. Az a mondhatni korlátlan szabadidő, hogy én osztom be az időmet szenzációs érzés, mindezt úgy, hogy a pénz az folyamatosan áramlik.
Amióta az Organonal vagyok megtudtam tenni hogy kimentem többször több hónapra ázsiába, amerikába, európába számtalan helyen voltam. A legutolsó nagyobb utazásom az a OG GETAWAY Icentive út volt Balira és egy Londoni incentiv az OG Office-ba.
Miért lettél STAR ACHIEVER?
Úgy gondolom ez az üzletünk stabilitásának az egyik alapja. Azáltal, hogy fogyasztókat szolgálunk ki akik imádják a termékünket és szenzációs termék tapasztalataik vannak, emiatt minden hónapban újra és újra megveszik. Ez egy gyakorlati módja annak hogy ténylegesen segítsünk az embereknek a ganodermával, és a többi termékekkel, hiszen mindegyik termék tapasztalatnál egyértelmű hogy mennyit jelent nekik, és akár az életüket tudják jobb irányba megváltoztatni vele.
Ez egy win-win helyzet, amellett hogy a fogyasztóknak is teljesen megéri, ez egy folyamatos cashflowt ad az üzletünknek, flowban tart, és így fenntartjuk azt az aktivitást ami kell ahhoz hogy folyamatosan építsük az üzletünket.
Nem mellesleg, elkerülhetetlen hogy ne legyünk Star Achieverek akkor, ha tényleg aktívan végezzük a munkánkat, hogy fogyasztói tábort bővítünk.
Ezek által ez megad egy alap passzív jövedelmet, ami már jó pénz is tud lenni sokaknak. Így ez a program egy jó mérföldkő a rangok között, segít fókuszban tartani, és húz felfele hogy építsük a törzsvásárlói körünket.
Számtalan promót tudunk vele kiaknázni, utazásokat, extra pénzt, vagy ingyen termékeket kapunk ha Starok vagyunk, nem éri meg nem Star Achievernek lenni. A plusz rewardok amiket meg a csillagok által megszerzünk, akár a Bulova óra, a Star trófeák úgy gondolom ékkövei az egésznek, hogy tettünk valamit az emberek életéért.
Hogyan csináltad meg? Hogyan építetted az üzleted?
Ahhoz, hogy Star Achiever legyél nincs nagy titok. Folyamatosan meetingeket, kávépartikat tartottam, kóstolókat adtam az embereknek. Ezen személyeket után kell követni – ez talán a legfontosabb az egészben, több múlik rajta mint egy mintaadáson! – beszélni velük, kapcsolatot építeni, terméktapasztalatokat kérni. S mindezek hatására ha folyamatosan meetingelünk új emberekkel, elkerülhetetlen hogy végül annyi fogyasztónk lesz, hogy meg lesz belőle a Star Achieverünk. Sőt bőven túl is lőjjük, és már egyre többen lesznek a fogyasztók, akik aztán van hogy szintén tovább ajánlják a terméket így kvázi folyamatosan fenntartjuk a Start.
Számomra nem egyből lett meg a Star Achiever. Lett pár fogyasztóm fokozatosan, de a star mennyiségtől még messze voltam. Főként az új üzlettársak építésére fókuszáltam, így előbb értem el vezetői rangot mint hogy star lettem volna. Viszont rájöttem, hogy muszáj több törzsvásárlókat kiépíteni, és ezt másoltatni a csapatban, hiszen ez adja meg a stabilitást, a folytonos passzív jövedelmet az üzletünkbe, így elkezdtem erre is energiát fordítani.
Hónapról hónapra, fokozatosan, mindig törekedtem rá hogy egyre több és több legyen (versenyekkel, promókkal, új emberek megkeresésével, stb.) volt amikor megvolt a star, aztán megint nem, míg végül elértem azt hogy minden hónapban fokozatosan van annyi vásárlás hogy ez már nem kérdés. Az lett a kérdés hogy hányszoros star egy hónap alatt? vagy tudok-e rekord forgalmat csinálni?  S végül ez segített el a Zafír vezetői szinthez is és a további növekedésekben.
Mindenkinek ezt tudom javasolni, plusz aki az üzletre netán nemet mond, ugyanúgy lehet fogyasztó. Szolgáljuk ki őket szeretettel. Folyamatosan törekedjünk rá hogy meglegyen az a törzsvásárlói bázisunk, amitől már Star Achieverek leszünk akkor is, ha elutazunk egy hónapra Ázsiába, mert egyszerűen annyian rendelnek hogy ez magától megvan. Eközben lehet erősen fókuszálni az üzlet építésére, ennek tanítására, másolására, és hogy még több ilyen személy legyen a csapatunkba, ami elősegíti azt hogy Super Star Acheiverek legyünk, és rangokat lépkedjünk felfele.
Mi az a három tipped amitől sikert érhet el bárki?
Elsősorban a konzekvenciát emelném ki. A konzekvencia hozza meg az igazi sikert, nem a robbanásszerű ritka cselekvések. Attól mert hétfőn 2 órán át fürdünk, nem azt jelenti hogy a hét többi napján akkor már nem kell mosakodnunk.
Lassan 20 éve karatézok, és sokan mindig elképednek rajta hogy mennyire nehéz lehet egy fekete övet megszerezni. Konzekvencia a kulcs. Nem egyszerre kell éjjel nappal tolni egy hétig, hanem folyamatosan, konzekvensen, míg végül eléri az ember amit szeretne, de ne várja el azt hogy 1 hónap vagy 1 év alatt fekete öves lesz.
Az Organonak a 4 lépésébe is benne van, minimum heti 4 új ember, 18 hónapon keresztül. Ha ezt konzekvensen betartjuk és megcsináljuk, nincs olyan hogy ne érjünk el sikereket. Meg kell adni neki az időt, a kitartást, a folytonos cselekvést. Persze kell bele vinnünk energiát, szenvedélyt, hitet, de ebbe mind segít a vezetőnk. Főleg a mostani online világban ez még könnyebbé vált.
Mindehhez kapcsolódik az elköteleződés is, ami szintén egy fontos része ahhoz, hogy kitartsunk a döntésünk mellett.
A másik az igazi Miért-ünk megtalálása. Amikor elindultam az Organoval, engem egyből a saját miértem mozgatott előre, amit akkor még nem tudtam hogy így hívnak –  nem egy adott személy miatt vagy egy "talán jó lesz" miatt indultam el.
Tudtam, hogy ha ezt más megtudta csinálni, anélkül hogy doktori mester diplomája legyen, akkor én is meg tudom csinálni, és el tudom érni vele a célomat. Az igazi miért az, amitől az ember sír, amiért átmegy a tűzön és falon, és nem tudják eltántorítani a céljátol bármi is történik. Erre fel kell készülnünk, hiszen lesznek az embernek olyan mélypontjai az életében és üzletében egyaránt amikor lehet feladná, vagy nehézségekkel küzd, és ilyenkor a miértünk az ami segít átlendíteni minket.
Nem függtem másoknak a gondolataitól, akik azt mondták hogy ne csináljam, vagy ez az egész hülyeség. Mert a miértem és a célom sokkal erősebb volt mint mások véleménye. Ha ez a belső égő vágyunk, miértünk golyóálló, az üzletünk is azzá válik.
A harmadik meg az önfegyelem amit kiemelnék. A mai világban elég sok zavaró tényező van körülöttünk, mindig van mivel foglalkozni, könnyen elfoglaltak leszünk. El kell sajátítanunk azt az önfegyelmet, a prioritások használatát, hogy akkor is megcsináljuk azt amit kell, ha épp nincs hozzá kedvünk – vagy azt mondanánk hogy nincs rá időnk.  Ha az önfegyelem mestereivé válunk, életünk minden területe egy komoly változáson tud átesni, és üzletünket is egy komoly nagy szintre tudjuk felépíteni, hiszen fókuszáltan, tudatosan építjük, nem pedig hektikusan, kedvszerűen.
Hogy látod magad a jövőben az ORGANO™-nál?
Nagy álmaim vannak és sokat tudnék róla mesélni. Az abszolút célom az, hogy a legmagasabb szintet elérjem, ami a Crown Ambassador. Ezt követően meg még több lehetőség nyílik meg előttem ami által tovább tudom építeni az életem, mindezt úgy, hogy közben másoknak is segítek.
Az egyik ultimate célom az, hogy legyen a csapatomban minimum 10 olyan család, akik dollár milliós jövedelemmel bírnak az Organoból.
Tudom, hogy ez mennyire kemény munka, mennyi időbe telik és nem egy éjszaka alatt fog megtörténni. Viszont látom, hogy az Organoval ez lehetséges, minden adott hozzá, csak mi kellünk hozzá hogy a rendszer nekünk dolgozzon. Folyamatosan kell fejleszteni magunkat és a környezetünket, kitartóan, célt kitűzve újra és újra tenni érte, és nem szabad hogy a külső tényezők befolyásoljanak, mert manapság talán ez a legveszélyesebb tényező a világban. Könnyen kieshetünk a fókuszból, elterelnek minket, és pikk pakk eltelik az idő.
Ami a Star Achievert illeti, nem kérdés a továbbiak, és a Super Star Achieveren felül azt szeretném első sorban, hogy legyen 4 Super Star Achiever a csapatomban.
Természetesen kis lépésekben nézve, elsőkörben a következő rang a célom.
Lehet még órákon át tudnék mesélni, de rövidre zárva, köszönöm az Organonak és a vezetőknek hogy megteremtették ezt a szenzációs lehetőséget, a támogatást, az átláthatóságot, és hogy minket disztribútorokat is partnerként kezel, nem pedig egy külsős emberként. Ez a magas minőség, és standard amit az ORGANO™ folyamatosan fejleszt, képvisel és alkot, úgy gondolom abszolút egyedi példa a mai világban.