Translations: Italian | Spanish|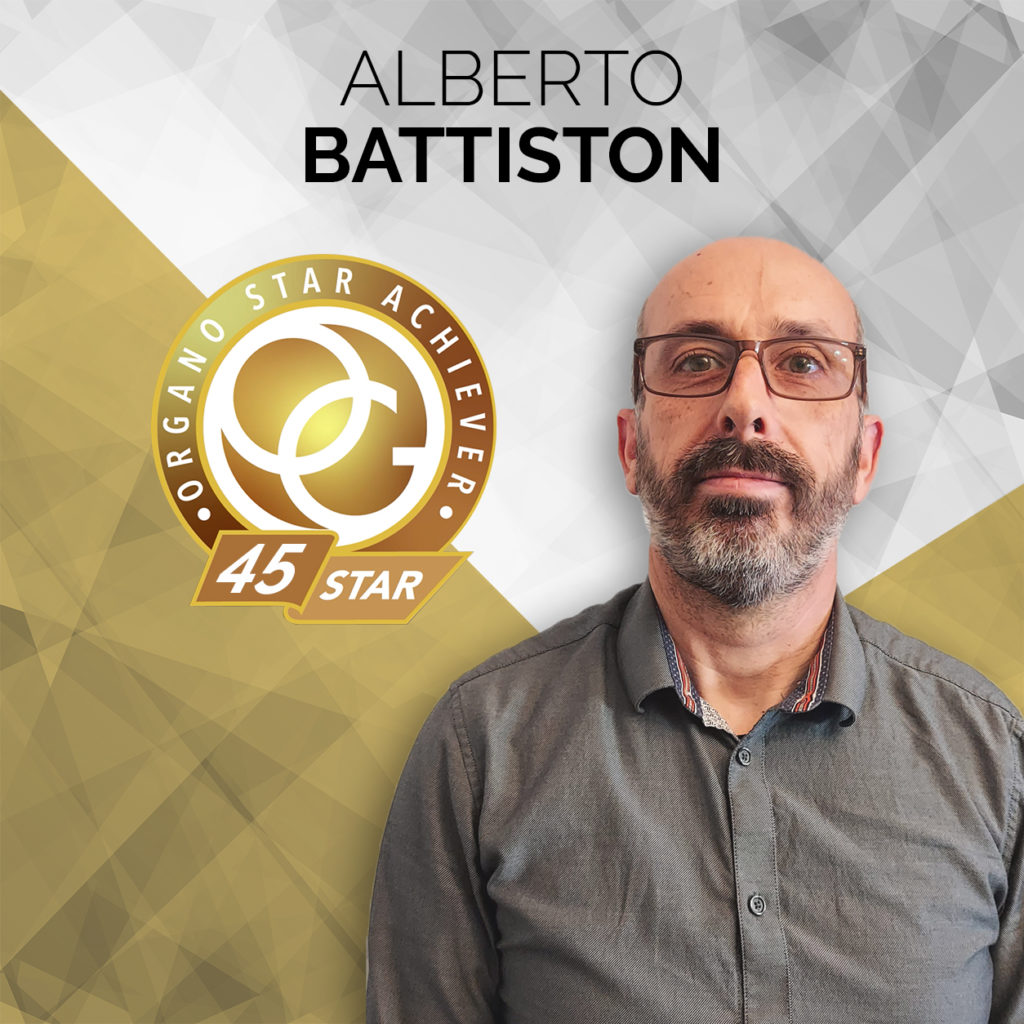 How long have you been working with ORGANO™ and how did you get started?
I have been a driver for 33 years and have always been looking for new opportunities that would allow me to improve myself.
I always felt attracted by the world of network marketing but I never really got to know it until I was invited to a coffee club by my ex-partner.
Initially I was a bit sceptical but then I changed my mind. A week after that meeting I signed up, it was 2014 and I can say that this company has made me grow a lot as a person. Thanks Organo™!
What is the reason for you being a STAR ACHIEVER?
When I started the business, I didn't consider the Star Achiever program, then over time I realized how important it was. This was a big step for me to get the first results driven by a purpose. Building the STAR ACHIEVER every month keeps you focused on the activity, it gives you inner energy and priceless satisfaction.
Start from yourself: be the product of the product in order to be consistent with what you said. Sell the product and giveaway samples for a minimum of 450 PQV per month, which I believe should be the minimum for each ORGANO™ Distribution Partner. The results are also seen over time, I guarantee it. There is only one thing that can makes you dreams come true: believe in yourself.
How did you build your business?
I could write a book but it wouldn't be enough to describe what I experienced. Since I joined MLM I have seen it all. There have been obstacles, excuses, difficulties, indifference and many "no" received, but I have always known that sooner or later the fruit of your work comes if you believe in it and you NEVER give up. If a customer says "no" to you, it does not mean that it will be a "no" forever, sometimes it becomes a constructive "yes". When customers see the benefits of the products, they want to try it again. It is a matter of taking it one step at a time, never giving up, brick by brick I built my STAR business, creating day after day my clientele.
What are your three tips for developing a successful business?
The first tip is to choose the right company and ORGANO™ is a boundless opportunity that happens only once in a lifetime. A fair, loyal company that cares about its Distribution Partners, which has a valid product at an affordable price for everyone, solid and with Leaders that no other has.
The second is to have a clear vision of which is the goal to be reached, it must be viewable and achievable. We must be able to feel it and live it as if you have already achieved it, already grasped, a dream that becomes a reality but above all, perseverance, belief must never be lacking. Never give up and don't get lost in excuses.
The third tip is to become the product of the product, be informed about the Ganoderma and bring or make known product testimonials. This is the best advertising you could have, because people don't do what you tell them to do but they do what you DO, what you show them. It is important to be informed about the products and to clearly inform of the extra income opportunity through this activity. IT'S EASY, IT'S SIMPLE, IT'S ORGANO™.
Where do you see your future in ORGANO™?
Well if one thing is certain it is that I am and will remain an ORGANO™ Distribution Partner, as well as a regular consumer of products. I could not live without the OGX® that I have been using every day for over 4 years and my lifestyle has been revolutionized.
I remain open to new experiences, new products, goals and new adventures with ORGANO™. Wherever this company goes, I'll be there!
I like the philosophy and vision of "BRINGING THE TREASURES OF THE EARTH TO THE PEOPLES OF THE WORLD". My path continues with ORGANO™ and also my being STAR ACHIEVER.
---
Da quanto tempo lavori con ORGANO™ e come hai iniziato?
Faccio l'autista da ormai 33 anni e sono sempre stato alla ricerca di di cose nuove che mi permettessero di migliorare me stesso.
Il mondo del network marketing mi ha sempre attratto ma non ho mai avuto modo di conoscerlo veramente finchè sono stato invitato ad un coffee club dalla mia ex-compagna.
Inizialmente ero un pò scettico ma poi mi sono ricreduto. Dopo una settimana da quel meeting mi sono iscritto, era il 2014 e posso dire che questa azienda mi ha fatto crescere molto come persona, sia dentro che fuori. Grazie Organo™!

Qual è la ragione per cui sei uno STAR ACHIEVER?
Quando ho iniziato l'attività non ho preso in considerazione il programma Star Achiever, poi con il tempo mi sono reso conto di quanto fosse importante. Questo per me è stato un grande passo per ottenere i primi risultati guidato da uno scopo. Costruire lo STAR ACHIEVER ogni mese ti tiene concentrato sull'attività e non ti fa perdere il focus, ti dà energia interiore e una soddisfazione impagabile.
Veicolare il prodotto partendo da se stessi: essere il prodotto del prodotto per essere coerenti con quello che si dice. Veicolare il prodotto attraverso vendite e omaggi per un minimo di 450 PQV al mese, che a mio avviso dovrebbe essere il minimo per ogni Incaricato Partner di ORGANO™. I risultati si vedono anche nel tempo, ve lo garantisco. C'è solo una cosa da fare per per realizzare i propri sogni: believe in yourself.
Come hai costruito la tua attività?
Potrei scrivere un libro ma non basterebbe a descrivere ciò che ho vissuto in prima persona. Da quando sono entrato nel MLM ne ho viste e vissute tante. Ci sono stati ostacoli, scuse, difficoltà, indifferenza e tanti "No" ricevuti, ma ho sempre saputo che prima o poi il frutto del tuo lavoro arriva se ci credi e non molli MAI. Non è detto che se un cliente ti dice "no" sia un "no" per sempre, a volte diventa un "Si" costruttivo. I clienti riescono a vedere i benefici del prodotto su di te, così sono loro che poi ti chiedono di volerli provare ed è cosi che un passo alla volta, senza mai mollare, mattone dopo mattone, ho costruito la mia attività di STAR, creando giorno dopo giorno la mia clientela.
Quali sono i tuoi tre consigli per sviluppare un business di successo?
Il primo consiglio è quello di scegliere l'azienda giusta ed ORGANO™ è un'opportunità senza confini che capita una sola volta nella vita. Un'azienda corretta, leale, che ha a cuore i suoi Incaricati, che ha un prodotto valido ad un prezzo accessibile per tutti, solida e con Leaders che nessun'altra ha.
Il secondo è prendere atto del proprio obiettivo da raggiungere, deve essere visualizzabile e realizzabile. Dobbiamo essere in grado di sentirlo e viverlo come se lo avessimo già raggiunto, già agguantato, un sogno che diventa realtà ma soprattutto non deve mai mancare la perseveranza, il credo. Non arrendersi mai e non perdersi in scuse.
Il terzo consiglio è diventare il prodotto del prodotto, informarsi sul Ganoderma e portare o far conoscere le testimonianze del prodotto. Questa è la migliore pubblicità che ci sia, perché le persone non fanno quello che dici loro di fare ma fanno quello che tu FAI, che mostri loro. È importante essere informato sui prodotti ed informare in modo chiaro dell'opportunità di un'entrata extra attraverso questa attività. È FACILE, È SEMPLICE, È ORGANO™.
Dove vedi il tuo futuro in ORGANO™?
Bè se una cosa è certa è che sono e resterò un Incaricato ORGANO™, oltre che un assiduo consumatore di prodotti. Non potrei vivere senza l'OGX® che ormai utilizzo ogni giorno da più di 4 anni ed il mio stile di vita è stato praticamente rivoluzionato.
Resto aperto a nuove esperienze, a nuovi prodotti, obiettivi e a nuove avventure con ORGANO™. Ovunque vada questa azienda, io ci sarò!
Mi piace la filosofia e la visione di "PORTARE I TESORI DELLA TERRA AI POPOLI DEL MONDO". La mia strada continua con ORGANO™ ed anche il mio essere STAR ACHIEVER.
---
¿Cuánto tiempo has estado trabajando con ORGANO™ y cómo empezaste?
Soy piloto desde hace 33 años y siempre he estado buscando nuevas oportunidades que me permitieran mejorar.
El mundo del mercadeo en red siempre me ha atraído, pero nunca llegué a conocerlo realmente hasta que mi ex novia me invitó a un club de café.
Al principio era un poco escéptico, pero luego cambié de opinión. A una semana de esa reunión me inscribí, era el 2014 y puedo decir que esta empresa me ha hecho crecer mucho como persona, tanto por dentro como por fuera. ¡Gracias Organo™!
¿Cuál es la razón por la que eres un STAR ACHIEVER?
Al comenzar el negocio no consideré el programa Star Achiever, luego, con el tiempo me di cuenta de lo importante que era. Este fue un gran paso para obtener los primeros resultados, impulsados ​​por un propósito. Construir el STAR ACHIEVER cada mes mantiene enfocado en la actividad, brinda energía interior y una invaluable satisfacción.
Partir de uno mismo por vehicular el producto: ser el producto del producto para ser coherente con lo que se dice. Entregar el producto a través de ventas y muestras por un mínimo de 450 PQV por mes, que creo que debería ser el mínimo para cada Distribuidor ORGANO™. Los resultados también se ven con el tiempo, te lo garantizo. Solo hay una cosa que puedes hacer para realizar tus sueños: creer en ti mismo.
¿Cómo construiste tu negocio?
Podría escribir un libro, pero no sería suficiente para describir lo que experimenté en ese tiempo. Desde que me uní al mercadeo en red he visto y vivido mucho. Pasé por obstáculos, excusas, dificultades, indiferencia y muchos "no" recibidos, pero siempre he sabido que NUNCA el fruto de mi trabajo llegaría a crecer si me hubiera rendido. No es seguro que si un cliente te dice "no" es un "no" para siempre, a veces se convierte en un "sí" constructivo. Los clientes pueden ver los beneficios del producto en ti y te piden de probarlos. Así es como paso a paso, sin rendirme, ladrillo a ladrillo construí mi negocio STAR, creando día tras día mi clientela.
¿Cuáles son sus tres consejos para desarrollar un negocio exitoso?
El primer consejo es elegir la compañía adecuada y ORGANO™ es una oportunidad ilimitada que ocurre solo una vez en la vida. Una empresa justa, leal, que se preocupa por sus Distribuidores, que tiene un producto válido a un precio accesible para todos, sólida y con Líderes que nadie más tiene.
El segundo es tomar nota del objetivo al que cada uno quiere llegar, debe ser visible y alcanzable. Debemos ser capaces de sentirlo y vivirlo como si ya lo hubiéramos logrado, ya captado, un sueño que se hace realidad pero sobre todo, nunca debe faltar la perseverancia, la fe. Nunca te rindas y no te pierdas en excusas.
El tercer consejo es convertirse en el producto del producto, tener información sobre el Ganoderma y traer o dar a conocer testimonios de productos. Ésta es la mejor publicidad que existe, porque la gente no hace lo que les dices que hagan, pero hacen lo que tú HACES y le muestras. Es importante estar informado sobre los productos e informar claramente de la oportunidad de un ingreso extra a través de esta actividad. ES FÁCIL, ES SIMPLE, ES ORGANO™.
¿Dónde ves tu futuro en ORGANO™?
Bueno, si algo es cierto es que soy y seguiré siendo un Distribuidor de ORGANO™, así como un consumidor habitual de productos. No podría vivir sin el OGX® que llevo usando todos los días más de 4 años y mi estilo de vida ha sido prácticamente revolucionado.
Sigo abierto a nuevas experiencias, nuevos productos, metas y nuevas aventuras con ORGANO™. ¡Donde sea que vaya esta empresa, estaré allí!
Me gusta la filosofía y visión de "LLEVAR LOS TESOROS DE LA TIERRA A LOS PUEBLOS DEL MUNDO". Mi camino continúa con ORGANO™ y también siendo STAR ACHIEVER.
---