Translations: Italian | Spanish|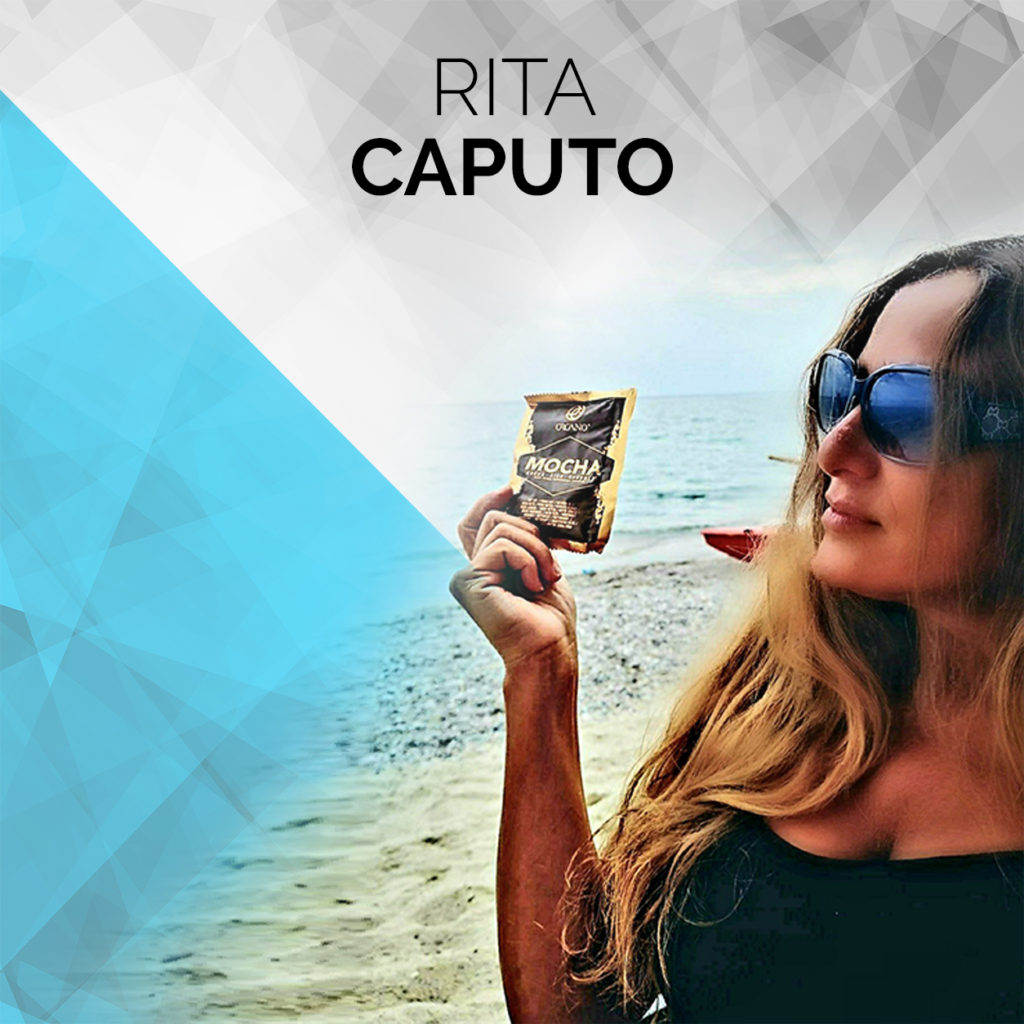 Tell us a little about yourself. What did you do before working with ORGANO™?
My story with ORGANO™ begins right there, on the beach where I am pictured. That's the place where I created my work team and many clients. I was born and live in Catanzaro, a hilly town in Calabria.  I started my adventure with ORGANO™ on 10 August 2015. Before starting this great opportunity I was working in the order service of a university faculty. It was the last job I had with time and earnings limits.
I had done various jobs in the past, from document management to office work, but whatever I did, it didn't give me any gratification or desire to continue.
Until ORGANO™ came into my life.
Last November and December, you reached 4000 PV of customer sales, how did you manage to achieve such volumes? How did you build your business?
It was easy for me to reach 4000 PQV sales, because we have a product that makes a difference.
In such a difficult time where restrictions due to Covid-19 kept me locked in my house, I looked for a way to continue to spread the product, because I don't sell but I have a mission: I want to share the product with as many people as possible, so that they can reap the same benefits as I did.  
What are your three tips for success?
Do good and the good will come back even bigger.
So I spent many hours on social media to communicate with as many people as possible, and what I longed for simply happened.
From day one in this business I have been a product of the product I share with people, I am in charge of building human relationships; nothing could be simpler than doing what I have always done and what so many people do, but if you are lucky enough to be working with a product of the highest quality and that makes people feel good, there comes an inevitable consequence: "the customers". They fall in love with it and want it back.

Success is about believing in what you do.
Don't be distracted by what you hear with your ears but focus on what you hear with your heart. Too much thinking stops action! It is said that it is easier to achieve a goal if you plan for it. My plan is ORGANO™ and I have a very strong desire, to bring our wonderful treasure of the earth to a very large number of people, this is my "plan", feed my desire every day.

A secret? Don't count the money but the actions you do! The results in any business are always in the numbers you make.
In love with the product. Fall in love with the people. Fall in love with what you do. Transmit what you feel to others and spread it to as many people as possible.
Where do you see your future in ORGANO™? What are your next goals?
I see my future with ORGANO everywhere, because it is my second skin. The place can be anywhere, it's what you do that makes it wonderful. My goal is to have the eagle that I have already displayed on a white cabinet in my home. With my actions, with the support and love of my family with whom I share this project, I dream of being able to achieve the freedom that I have always sought and thanks to ORGANO I am on the path to achieving it.
---
Parlaci un po' di te. Cosa facevi prima di lavorare con ORGANO™?
La mia storia con ORGANO™ inizia proprio lì, nella spiaggia in cui sono nella foto. E' quello il luogo in cui ho creato il mio team di lavoro e tanti clienti. Io sono nata e vivo a Catanzaro, una città collinare in Calabria. Ho iniziato la mia avventura con ORGANO™ il 10 agosto 2015.
Prima di iniziare questa grandiosa opportunità lavoravo nel servizio d'ordine di una facoltà universitaria. È stato l' ultimo lavoro che ho svolto con dei limiti di orario e di guadagno.
Ho svolto vari lavori in passato, dalla gestione dei documenti, alle mansioni di ufficio, ma qualsiasi cosa facevo, non mi dava nessuna gratificazione e voglia di continuare.
Finché non è arrivato ORGANO™ nella mia vita.
Lo scorso novembre e dicembre hai raggiunto 4000 PV di vendita a clienti, come sei arrivata a raggiungere certi volumi? Come hai costruito la tua attività 
Per me è stato semplice raggiungere 4000 PQV di vendita, perché abbiamo un prodotto che fa la differenza. In un momento così difficile dove le restrizioni a causa del Covid-19  mi hanno tenuta chiusa in casa, ho cercato un modo per continuare a divulgare il prodotto, perché io non vendo ma ho una missione: voglio condividere il prodotto con il più alto numero di persone possibile, affinché possano trarre gli stessi benefici che ho tratto io.  
Quali sono i tuoi tre suggerimenti per il successo?
Fai del bene e il bene ritornerà ancora più in grande.
Così ho trascorso tante ore sui social per comunicare con più persone possibili, e ciò che desideravo ardentemente è semplicemente accaduto.
Dal primo giorno in questa attività sono prodotto del prodotto che condivido con le persone, mi occupo di costruire rapporti umani; niente di più semplice che fare ciò che ho sempre fatto e che tantissime persone fanno, ma se hai la fortuna di lavorare con un prodotto di altissima qualità e che fa stare  bene le persone , ecco che arriva un inevitabile conseguenza "i clienti".
Che si innamorano e lo rivogliono‼ Il successo lo hai se credi in quel che fai. Non farti distrarre da ciò che senti con le orecchie ma focalizzati su ciò che senti con il cuore. I troppi ragionamenti bloccano l'azione!

Si dice che sia più facile raggiungere un obiettivo se lo si pianifica. Il mio piano è ORGANO™ e ho un desiderio molto forte, di  portare il nostro meraviglioso tesoro della terra ad un grandissimo numero di persone, è questo il mio "piano", alimentare il mio desiderio ogni giorno. Un segreto? Non contare i soldi ma le azioni che fai! I risultati in ogni business stanno  sempre nei numeri che si fanno.
Innamorati del prodotto. Innamorati delle persone. Innamorati di ciò che fai. Trasmetti agli altri ciò che senti e divulgalo a più persone possibili.
Dove vedi il tuo futuro in ORGANO™? Quali sono i tuoi prossimi obiettivi?
Il mio futuro con ORGANO™ lo vedo ovunque , perché è la mia seconda pelle. Il luogo può essere qualsiasi, è quello che fai che lo rende meraviglioso. Il mio obiettivo è avere l' aquila che ho già visualizzato su un  mobile bianco nella mia casa. Con le mie azioni, con l appoggio e l'amore della mia famiglia con cui condivido questo progetto, sogno di poter raggiungere la libertà che ho sempre cercato e che grazie ad ORGANO™ sono nel percorso per poterlo raggiungere.
---
Cuéntanos un poco sobre ti. ¿Qué hacías antes de trabajar con ORGANO™?
Mi historia con ORGANO™ comienza ahí mismo, en la playa donde me veo. Ese es el lugar donde creé mi equipo de trabajo y muchos clientes. Nací y vivo en Catanzaro, una ciudad de colinas en Calabria.  Comencé mi aventura con ORGANO™ el 10 de agosto de 2015.
Antes de empezar esta gran oportunidad estaba trabajando en el servicio de pedidos de una facultad universitaria. Era el último trabajo que tenía con límites de tiempo y ganancias. Había hecho varios trabajos en el pasado, desde gestión de documentos hasta trabajos de oficina, pero hiciera lo que hiciera, no me daba ninguna gratificación ni ganas de seguir.

Hasta que ORGANO™ llegó a mi vida.
Los pasados meses de noviembre y diciembre alcanzastes los 4.000 PV de ventas a clientes, ¿cómo conseguistes alcanzar tales volúmenes? ¿Cómo construiste tu negocio?
Para mí fue fácil llegar a 4000 PQV de ventas, porque tenemos un producto que marca la diferencia. En una época tan difícil en la que las restricciones debidas al covid-19 me tenían encerrada en mi casa, busqué la manera de seguir difundiendo el producto, porque yo no vendo sino que tengo una misión: quiero compartir el producto con el mayor número de personas posible, para que puedan obtener los mismos beneficios que yo.  
¿Cuáles son sus tres consejos para el éxito?
Haz el bien y el bien volverá aún más grande. Así que pasé muchas horas en las redes sociales para comunicarme con el mayor número de personas posible, y lo que anhelaba simplemente ocurrió. Desde el primer día en este negocio he sido producto del producto que comparto con la gente, me encargo de construir relaciones humanas; nada más sencillo que hacer lo que siempre he hecho y lo que tanta gente hace, pero si tienes la suerte de trabajar con un producto de altísima calidad y que hace sentir bien a la gente, llega una consecuencia inevitable: "los clientes. Se enamoran de él y lo quieren recuperar. El éxito consiste en creer en lo que haces. No te distraigas con lo que escuchas con tus oídos, sino céntrate en lo que escuchas con tu corazón. Pensar demasiado impide actuar.
Se dice que es más fácil conseguir un objetivo si lo planificas.
Mi plan es ORGANO y tengo un deseo muy fuerte, llevar nuestro maravilloso tesoro de la tierra a un gran número de personas, este es mi "plan", alimentar mi deseo cada día.
¿Un secreto? ¡No cuentes el dinero sino las acciones que realizas! Los resultados en cualquier negocio siempre están en los números que haces.

Enamórate del producto. Enamórate de la gente. Enamórate de lo que haces. Transmite lo que sientes a los demás y difúndelo a la mayor cantidad de gente posible.
Dónde ves tu futuro en ORGANO™? ¿Cuáles son tus próximos objetivos?
Veo mi futuro con ORGANO™ en todas partes, porque es mi segunda piel. El lugar puede estar en cualquier sitio, es lo que hace que sea maravilloso. Mi objetivo es tener el águila que ya tengo expuesta en un mueble blanco de mi casa. Con mis acciones, con el apoyo y el amor de mi familia con la que comparto este proyecto, sueño con poder alcanzar la libertad que siempre he buscado y gracias a ORGANO™ estoy en el camino de conseguirlo.
---