Translations: Italian | Spanish|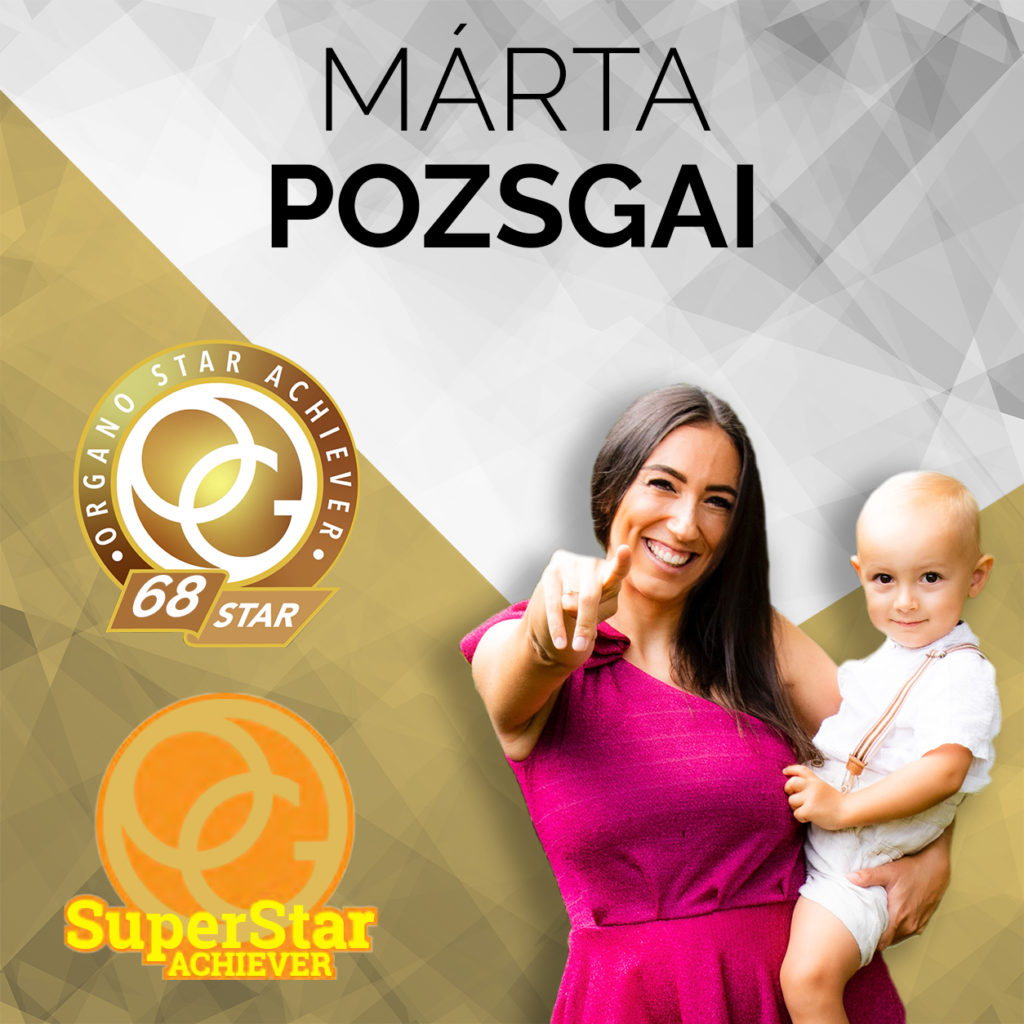 Marta Pozsgai is an Independent Distribution Partner of Organo™ from Hungary. She joined 6 years ago and when we met her she told us: "It was one of the best choices I ever made. It is my dream work. I enjoy every moment in Organo." ORGANO™ is a global network marketing company on a mission to change lives by helping people reaching new levels of balance, freedom and well-being through premium products and business opportunity. Since the moment Marta started in Organo™, she has always shined as one of the brightest stars in the OG sky, moving to the rank of Diamond Consultant and building a great team. Not satisfied to be just a Diamond, she started the Star Achiever program and reached 68 Star Achiever in September and she is always Super Star Achiever. While being Star Achiever means accumulate a totals of 450 points or more every month by retail customer orders combined with personal product orders, a Super Star Achiever is a Star who has at least four personally sponsored downlines who are also Star Achievers per calendar month.

We met Marta and made her some questions about her business to know what the secret of her success is.
Marta, what did you do before working with ORGANO™?
When I was invited to taste an Organo coffee, I just finished the university and started looking for a jobs.

What is the reason for you being a STAR ACHIEVER and SUPER STAR ACHIEVER?
When I joined Organo I realized that this business works in a simple way because of the products. Everyone wants to drink a coffee, feel and look good taking care of themselves. My mission is to share Organo products with my friends and tell them to try this at least for a month. In one month they can feel the difference between their old favourite product and the new Organo best product. That's why I have more and more costumers every month and I teach to the team this business model. This is a solid business. People can now drink coffee, tea, OGX and use the beU line every day. They can order Organo products every month and you can do your business from home, as I do now since I am pregnant for the second time and I can still see my business volume growing. I love Organo.

Marta is a person that really loves being part of the Organo™ Family. So we wanted to know what her best tip is than can be helpful to all our Distribution Partners to growth the business, she replied:
Use the products! But do not keep it only for yourself, show them to your friends.

Where do you see your future at ORGANO™?
I have around 50 Star Achievers in my team. My dream is to have in 2021, over 200 Star Achievers in my team on a monthly basis.
My dream is to enjoy the Organo lifestyle for the next 20 years, be a Mom of 5 children, travel together all around the world and shine like a Diamond.
---
Marta Pozsgai è una Incaricata Partner indipendente di Organo™ proveniente dall'Ungheria.
È entrata a far parte di ORGANO™ 6 anni fa e quando l'abbiamo incontrata ci ha detto: "È stata una delle scelte migliori che abbia mai fatto. È il lavoro dei miei sogni. Mi godo ogni momento in Organo." ORGANO™ è una società globale di network marketing con la missione di incidere positivamente sulla vita delle persone aiutandole a raggiungere nuovi livelli di equilibrio, libertà e benessere attraverso prodotti premium e opportunità di business. Dal momento in cui Marta ha iniziato a lavorare con Organo™, ha sempre brillato come una delle stelle più luminose nel cielo OG, passando alla qualifica di Consulente Diamante e costruendo una grande squadra. Non soddisfatta di essere solo un Diamante, ha iniziato il programma Star Achiever e ha raggiunto 68 Star Achiever a settembre ed è sempre Super Star Achiever. Sebbene essere Star Achiever significhi accumulare un totale di 450 punti o più ogni mese da ordini di clienti al dettaglio combinati con ordini di prodotti personali, un Super Star Achiever è una Star che ha almeno quattro downline sponsorizzate personalmente che sono anche esse Star Achiever mensilmente.
Abbiamo incontrato Marta e le abbiamo fatto alcune domande sulla sua attività per sapere qual è il segreto del suo successo.
Marta, cosa facevi prima di lavorare con ORGANO™?
Quando sono stata invitata ad assaggiare un caffè Organo, avevo appena finito l'università e stavo iniziando a cercare un lavoro.
Qual è il motivo per cui sei una STAR ACHIEVER e SUPER STAR ACHIEVER?
Quando sono entrata a far parte di Organo mi sono resa conto che questa attività funziona in modo semplice grazie ai prodotti. Tutti vogliono bere un caffè, sentirsi e vedersi bene prendendosi cura di se stessi. La mia missione è condividere i prodotti Organo con i miei amici e dire loro di provarli almeno per un mese. In un mese possono sentire la differenza tra il loro vecchio prodotto preferito e il nuovo e miglior prodotto Organo. Ecco perché ho sempre più clienti ogni mese e cerco di insegnare al mio team questo modello di business. Questo è un business solido. Le persone possono ora bere caffè, tè, OGX e utilizzare la linea beU ogni giorno. Possono ordinare i prodotti Organo ogni mese e tu puoi fare i tuoi affari da casa, come dopotutto io faccio ora da quando aspetto il mio secondo bambino e giorno dopo giorno posso ancora vedere crescere il volume della mia attività. Io adoro Organo.
Marta è una persona che davvero ama far parte della famiglia Organo™. Quindi le abbiamo chiesto qual è il miglior consiglio che può dare a tutti i nostri Incaricati Partner per far crescere il business, lei risponde:
Usa i prodotti! Ma non tenerli solo per te, condividili con i tuoi amici.
Dove vedi il tuo futuro in ORGANO™?
Ho circa 50 Star Achievers nella mia squadra. Il mio sogno è avere nel 2021 più di 200 Star Achievers nel mio team su base mensile.
Il mio sogno è godermi lo stile di vita Organo per i prossimi 20 anni, essere una mamma di 5 bambini, viaggiare in tutto il mondo e splendere come un Diamante.
---
Marta Pozsgai es una distribuidora independiente de Organo™ de Hungría.
Se uno a ORGANO™ hace 6 años y cuando la conocimos nos dijo: "Fue una de las mejores decisiones que he tomado en mi vida. Es el trabajo de mis sueños. Disfruto cada momento en Organo." ORGANO™ es una compañía de mercadeo en red global con la misión de impactar positivamente la vida de las personas ayudándolas a alcanzar nuevos niveles de equilibrio, libertad y bienestar a través de productos premium y oportunidades comerciales. Desde que Marta comenzó a trabajar con Organo™, siempre ha brillado como una de las estrellas más brillantes en el cielo de OG, progresando a la calificación de Consultora Diamante y formando un gran equipo. No satisfecha con ser solo una Diamante, comenzó el programa Star Achiever y logró 68 Star Achiever en septiembre y sigue siendo Super Star Achiever. Aunque ser Star Achiever significa acumular un total de 450 puntos o más cada mes desde pedidos de clientes minoristas combinados con pedidos de productos personales, un Super Star Achiever es una estrella que ha al menos cuatro líneas descendentes patrocinadas personalmente que también son Star Achievers mensualmente.
Conocimos a Marta y le hicimos algunas preguntas sobre su negocio para descubrir cuál es el secreto de su éxito.
Marta, ¿qué hacías antes de trabajar con ORGANO™?
Cuando me invitaron a degustar un café Organo, acababa de terminar la universidad y estaba empezando a buscar trabajo.
¿Cuál es la razón por la que eres STAR ACHIEVER y SUPER STAR ACHIEVER?
Cuando me incorporé a Organo, me di cuenta de que este negocio funciona de forma sencilla gracias a los productos. Todos quieren tomar café, sentirse y verse bien mientras se cuidan. Mi misión es compartir los productos Organo con mis amigos y decirles que los prueben durante al menos un mes. En un mes pueden sentir la diferencia entre su antiguo producto favorito y el nuevo y mejor producto Organo. Por eso cada mes tengo más clientes y trato de enseñarle a mi equipo este modelo de negocio. Este es un negocio sólido. Las personas ahora pueden beber café, té, OGX y usar la línea beU todos los días. Pueden pedir productos Organo todos los meses y tú puedes hacer tu negocio desde casa, como hago yo ahora, ya que estoy esperando mi segundo bebé y día a día todavía puedo ver el volumen de mi negocio crecer. Amo Organo.
Marta es una persona a quien realmente le encanta ser parte de la familia Organo™. Entonces le preguntamos cuál es el mejor consejo que puede dar a todos nuestros Distribuidores para hacer crecer el negocio, ella responde:
¡Usa los productos! Pero no los guarde solo para ti, compártalos con tus amigos.
¿Dónde ve tu futuro en ORGANO™?
Tengo alrededor 50 Star Achievers en mi equipo. Mi sueño es tener más de 200 Star Achievers en mi equipo mensualmente en 2021.
Mi sueño es disfrutar del estilo de vida Organo durante los próximos 20 años, ser madre de 5 bebè, viajar por el mundo y brillar como un Diamante.
---