Translations: Italian | Hungarian | French | Spanish
GET 3 BOXES OF COMPLIMENTARY BLACK TEA FOR EVERY ORDER ABOVE 100 PQV IN MAY!
IMPORTANT: Limited with stock availability. Expiry date: 08-2019.
PSPs and Promo Packs are included.
---
Black TEA PROMO! Dal 1 al 31 Maggio – ESAURITO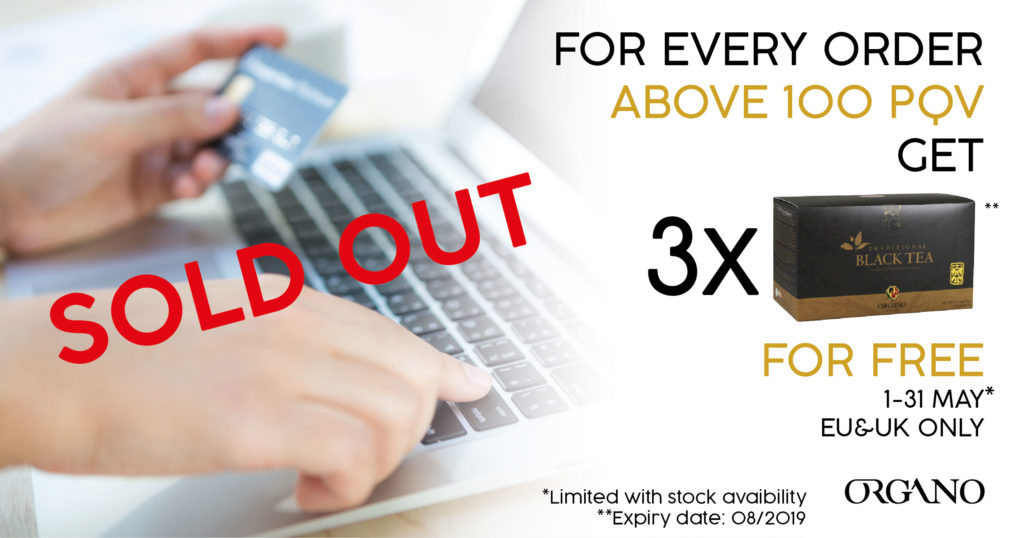 OTTIENI 3 CONFEZIONI GRATUITE DI BLACK TEA PER OGNI ORDINE SUPERIORE A 100 PQV IN MAGGIO!
IMPORTANTE: Quantità limitata. Data di scadenza: 08-2019.
PSPs and Promo Packs sono inclusi.
---
Black TEA PROMO! 01-31 Mayo
¡OBTENGA 3 PAQUETES DE TÉ NEGROS GRATIS PARA CADA PEDIDO MÁS DE 100 PQV EN MAYO!
IMPORTANTE: Cantidad limitada. Fecha de expiración: 08-2019.
PSPs and Promo Packs estan incluidos.
---
Thé NOIR – dernier mois pour utiliser le thé noir1-31 MAI
RECEVEZ 3 BOÎTES DE THÉ NOIR GRATUITEMENT POUR CHAQUE COMMANDE SUPÉRIEURE À 100 PQV AU MOIS DE MAI
Limité à la disponibilité des stocks / Date d'expiration: 08-2019). Les PSP et les packs promo sont inclus.
---
Fekete TEA – az utolsó hónap a Fekete Tea használatáraMÁJUS 1-31.
3 DOBOZ AJÁNDÉK FEKETE TEA MINDEN 100 PQV FELETTI VÁSÁRLÁSHOZ MÁJUSBAN.
A készlet erejéig/Szavatossági idő: 2019. 08 hó. A Promóciós Üzletépítő Csomagok és a Promo Csomagok az akció részét képezik.
---