Translations: Italian | Spanish|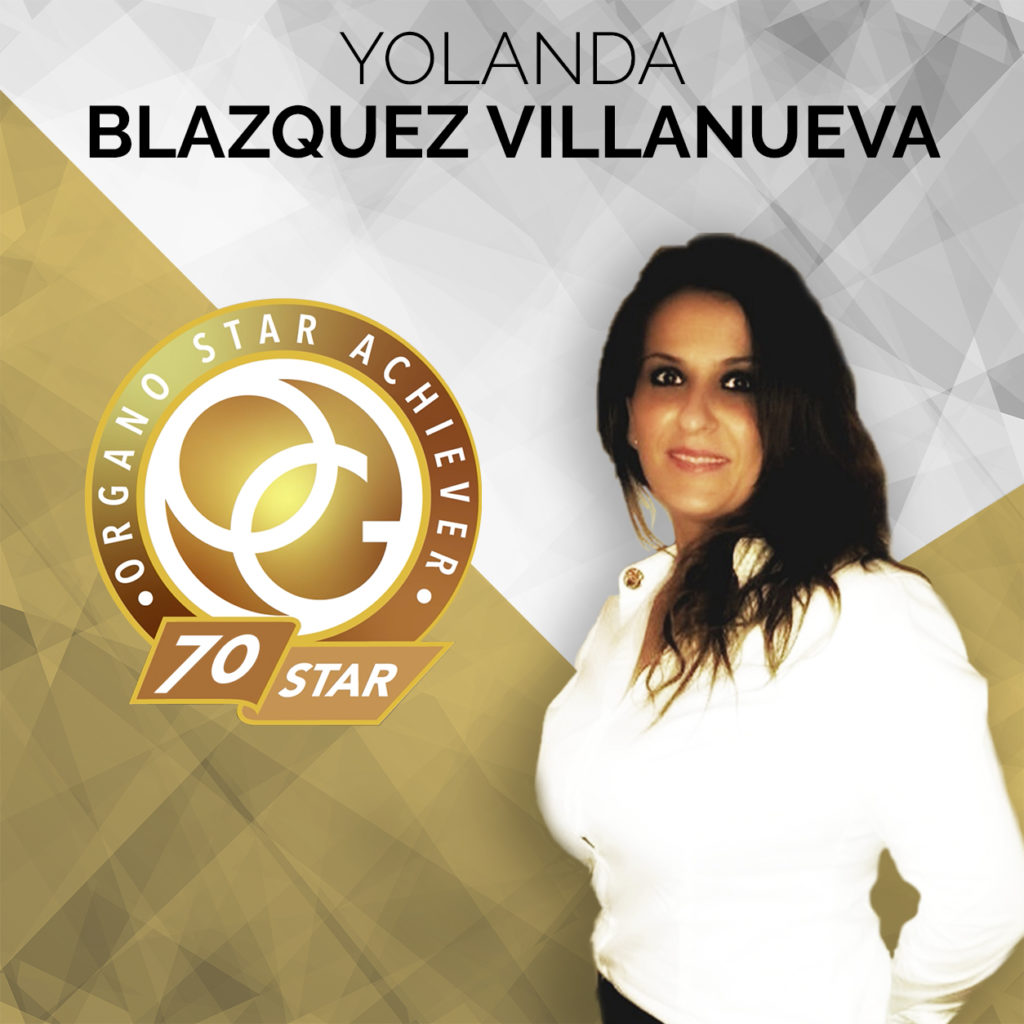 Yolanda Blazquez Villanueva is a Spanish Independent Distribution Partner of ORGANO™ since 2013 and has achieved the 70th Star Achiever in the month of September 2020 showing excellence in the retail sale of OG products.
Yolanda was born in Madrid and grew up in Barajas from a humble and hard-working family that had the first Ice Factory in the neighbourhood, then a poultry shop, a fishmonger and then a bar.
She followed administrative studies and suddenly started to work to help at home after the death of the father. Yolanda has always shown great strength and determination in life and in business and meets the Star Achiever goal every month.
What did you do before working with ORGANO™?
I worked as executive in an office, as a tele marketer, as an Administrative in a well-known company that produces soft drinks but they were all temporary replacements. Then I worked in a catering company at the Airport until I started working in the airport's cafeterias, until now.
What is the reason for you being a STAR ACHIEVER during these years?
The reason is simple, I cannot stay without products! Because of my loyal customers who ask products on a monthly basis and because of the products I consume at home. In order to sell a product you must try it and in this way you will transmit its value to people. You also must always have the coffee sachets to share with people, this is the way people get to know us. In addition, there are always product gifts, special offers, not to mention that at 12 months they recognize your work and effort with a beautiful Bulova watch!
How did you do it? How did you build your business?
It was very easy, a friend invited me to have a coffee when I was not drinking coffee.
I worked between cafes and all my colleagues drank it but I didn't, because it was not good for me. The coffee she made me try was different, its flavour was very rich like other coffees but unlike the others, this coffee was really good for me, in fact I had more than one and it did not even disturb me.
The product is coffee, an excellent coffee. Coffee is the second most consumed drink after water, it means a lot to people.
Our cafeteria customers, whatever time it was they asked for their coffee, I have heard many of them saying: "I am nothing with no coffee".
So it was clear to me that it was a good business, also the way Organo offers its products by recommendation is good. Who is the person that has never recommended something to someone else? Well, here we are rewarded for it! This is a business that you can do from home. There will be people who want just to buy the product and people who want to recommend it like me, and if you do this you can create a team sharing with people our products.
What I liked the most are the values ​​of the Company, which does not want to be the richest but the most admired of all. Also the mission impacted me a lot: "Bring the Treasures of the Earth to the people of the world", and it has succeeded. This is a company that has started with a family, now it is recognized in 6 continents, isn't it incredible? So, I started working at Organo the same day I tried it, December 3, 2013, and it has changed my life, inside and out.
What are your three tips for success?
Positive Attitude: A good attitude towards the obstacles that appear in your life is very important. Never see them as obstacles but as opportunities. There may be several people who will tell you that it does not work since this business is not the traditional one that everyone know. This is a different business where you can earn in different ways, not just one, such as we knew until now. Your attitude is very important. In order to reach your goals you must believe in yourself, no one else needs to do it, be the best you can be, whatever you do.
Commitment: It is important to commit to yourself and to your business. You must persist, be constant, use the fundamental tools and necessary websites that the company makes available to us in order to start your business. Be teachable, the plan is designed to succeed. Just do it and follow the people who have results, because we all have opinions.
Action: Perhaps it is one of the most important thing, without action there is nothing. Success does not knock on your door, you must go out and look for it and if you love what you do, you will end up succeeding. Remember that nothing is free and that if you want different results, you must do different things. You must take action, do what you said you were going to do, not later, do it now, if it is difficult for you, start with small actions, repeat them constantly and you will create a habit and will have results.
Where do you see your future at ORGANO™?
My future in Organo will be as Diamond.
*Actual income resulting from the activity of Independent Distribution Partner will depend on the amount of time and effort an individual devotes to his/her business.
---
Yolanda Blazquez Villanueva è un'Incaricata Partner indipendente spagnola di ORGANO™ dal 2013 e ha raggiunto la 70° Star Achiever nel mese di settembre 2020, dimostrando eccellenza nella vendita al dettaglio di prodotti OG.
Yolanda è nata a Madrid ed è cresciuta a Barajas da una famiglia umile e di grandi lavoratori che ha avuto la prima fabbrica di ghiaccio del quartiere, poi un negozio di pollame, una pescheria ed infine un bar.
Ha seguito studi amministrativi ed ha iniziato subito a lavorare per aiutare in casa dopo la morte del padre. Yolanda ha sempre dimostrato grande forza e determinazione nella vita e negli affari e raggiunge l'obiettivo Star Achiever ogni mese.
Cosa facevi prima di lavorare con ORGANO™?
Ho lavorato come dirigente in un ufficio, facendo telemarketing e nella sezione amministrativa in una nota azienda che produce bibite, ma erano tutte sostituzioni temporanee. Poi ho lavorato in una società di catering in aeroporto fino a quando ho iniziato a lavorare nei bar dell'aeroporto, fino ad oggi.
Qual è il motivo per cui sei diventata una STAR ACHIEVER in questi anni?
Il motivo è semplice, non posso restare senza prodotti! Perché ho i miei clienti fedeli che chiedono prodotti mensilmente e perché consumo i prodotti in casa. Per vendere un prodotto devi provarlo e in questo modo trasmetterai il suo valore alle persone. Inoltre devi sempre avere le bustine di caffè da condividere con le persone, questo è il modo in cui ci conoscono. Inoltre, ci sono sempre regali di prodotti, offerte speciali, senza contare che a 12 mesi riconoscono il tuo lavoro ed il tuo impegno con un bellissimo orologio Bulova!
Come hai fatto? Come hai costruito la tua attività?
È stato molto facile, un'amica mi ha invitato a prendere un caffè quando ancora non lo bevevo.
Ho lavorato in diversi bar e tutti i miei colleghi lo bevevano ma io no, perché non mi favea bene. Il caffè che mi ha fatto provare la mia amica era diverso, il suo sapore era molto ricco come gli altri caffè ma a differenza degli altri questo caffè per me era davvero buono, infatti ne bevvi più di uno e non mi diede fastidio.
Il prodotto è caffè, un ottimo caffè. Il caffè è la seconda bevanda più consumata dopo l'acqua, significa molto per le persone.
I clienti del bar ne prendevano a qualunque ora, ho sentito molti di loro dire: "Non sono niente senza caffè".
Quindi è stato chiaro per me che era un buon affare, anche il modo in cui Organo offre i suoi prodotti su raccomandazione è buono. Chi è la persona che non ha mai consigliato un prodotto a qualcun altro? Bene, noi veniamo premiati per questo! Questa è un'attività che puoi svolgere da casa. Ci saranno persone che vorranno solo acquistare il prodotto ed altre che vorranno consigliarlo come me, e se lo fai puoi creare un team per condividere i nostri prodotti con altri.
Quello che mi è piaciuto di più sono i valori dell'Azienda, che non vuole essere la più ricca ma la più ammirata tra tutte. Anche la missione mi ha colpito molto: "Portare i tesori della Terra ai popoli del mondo", ed ci è riuscita. Questa è un'azienda che nasce da una famiglia, ora è riconosciuta in 6 continenti, non è incredibile? Quindi, ho iniziato a lavorare con Organo lo stesso giorno in cui ho provato il caffè, il 3 dicembre 2013, ed ha cambiato la mia vita, dentro e fuori.
Quali sono i tuoi tre suggerimenti per il successo?
Atteggiamento positivo: un buon atteggiamento verso gli ostacoli che compaiono nella tua vita è molto importante. Non vederli mai come ostacoli ma come opportunità. Potrebbero esserci diverse persone che ti diranno che non funziona poiché questa attività non è quella tradizionale che tutti conoscono. Questo è un business diverso in cui puoi guadagnare in modi diversi, non in un modo solo come conoscevamo sino ad ora. Il tuo atteggiamento è molto importante. Per raggiungere i tuoi obiettivi devi credere in te stesso, nessun altro ha bisogno di farlo. Sii il meglio che puoi essere, qualunque cosa tu faccia.
Impegno: è importante impegnarsi con se stessi e con la propria attività. Devi persistere, essere costante, utilizzare gli strumenti fondamentali ed i siti web necessari che l'azienda ci mette a disposizione per avviare la tua attività. Sii insegnabile, il piano è progettato per avere successo. Fallo e segui le persone che hanno risultati, perché tutti abbiamo opinioni.
Azione: forse è una delle cose più importanti, senza azione non c'è niente. Il successo non bussa alla tua porta, devi uscire a cercarlo e se ami quello che fai finirai per avere successo. Ricorda che nulla è gratuito e che se vuoi risultati diversi, devi fare cose diverse. Devi agire, fare quello che hai detto che avresti fatto, non più tardi, fallo ora. Se è difficile per te, inizia con piccole azioni, ripetile costantemente e creerai un'abitudine che ti porterà ad avere risultati.
Dove vedi il tuo futuro in ORGANO™?
Il mio futuro in Organo sarà come Diamante.
*Il reddito effettivo derivante dall'attività di Incaricato Partner Indipendente alle Vendite dipenderà dalla quantità di tempo e sforzo che un individuo dedica alla propria attività.
---
Yolanda Blazquez Villanueva es Socia Partner Independiente española de ORGANO™ desde 2013 y ha logrado la 70 Star Achiever en el mes de Septiembre 2020 mostrando excelencia en la venta minorista de productos OG.
Yolanda nace en Madrid y se cría en Barajas de una familia humilde y trabajadora que siempre había tenido negocios, la primera Fábrica de hielo en el barrio, una pollería, una pescadería y luego un bar.
Sigue estudios administrativos y empieza a trabar de pronto para ayudar en casa después de la muerte del padre. Yolanda siempre ha demostrado mucha fuerza y determinación en la vida como en el negocio y cumple cada mes con el objetivo Star Achiever.
¿Qué hiciste antes de trabajar con ORGANO™?
Trabajé de Administrativa en una oficina, de Tele operadora, de Administrativa en una empresa muy conocida de refrescos, pero todo eran suplencias. Luego trabajé en una empresa de catering del Aeropuerto hasta que empecé a trabajar en las cafeterías del Aeropuerto, hasta el día de hoy.
¿Cuál es la razón por la que eres un STAR ACHIEVER durante estos años?
La razón es sencilla, ¡no puede faltarme producto! Ni para mis fieles clientes que me piden cada mes, como para nosotros que en casa consumamos todos los productos. Para vender un producto debes probarlo y así transmitirás mucho mejor su valor a la personas. Además hay que tener los sobres de café para compartirlos con la gente para que nos conozca, así conseguí los puntos para el Star Achiever.
¡Además siempre hay regalos de productos, ofertas especiales, sin dejar de mencionar que a los 12 meses te reconocen tu trabajo y esfuerzo con un reloj Bulova precioso!
¿Cómo lo hiciste? ¿Cómo construiste tu negocio?
Fue muy fácil, una amiga me invitó a tomar un café y aunque parezca mentira no tomaba café.
Trabajaba entre cafés y prácticamente todos mis compañeros lo tomaban pero yo no, porque no me sentaba bien. El café que ella me hizo probar era diferente, su sabor es muy rico como los demás cafés, pero al contrario del café tradicional me sentaba muy bien, de hecho tome más de uno y ni siquiera me alteró.
El producto es café, un café excelente. Yo sé lo que significa tomar para la mayoría de la gente siendo la segunda bebida más consumida después del agua.
Nuestros clientes de las cafeterías fuese la hora que fuese pedían su café, muchos han llegado a decir: "sin café no soy nada".
Así lo tuve claro, además la manera que Organo ofrece sus productos es por recomendación, y ¿quién no ha recomendado algo que le ha gustado a alguien alguna vez? ¡Pues aquí además te recompensan por ello! Un negocio que puedes hacer desde casa, habrá gente que lo quiera solo para tomarlo regularmente, y habrá gente que quiera recomendarlo como yo, y así se crea un equipo, llegar a más gente que conozca nuestros productos, y lo que más me gustó fueron los valores de la empresa, que no quiere ser la más rica sino la más admirada, eso me impactó y también su misión que es la de llevar los Tesoros de la Tierra a las gentes del mundo, y lo ha conseguido. Esta es una empresa que empezó con una familia, ahora está reconocida en 6 continentes, ¿no es increíble? Así que comencé a trabajar en Organo aquel mismo día que lo probé, el 3 de Diciembre de 2013, y me ha cambió la vida, por dentro y por fuera.
¿Cuáles son tus tres consejos para el éxito?
Actitud Positiva: Una buena actitud ante los obstáculos que aparecen en tu vida es muy importante. No los veas como tal, puedes verlos como oportunidades, habrá mucha gente que te diga que no funciona, ya que este negocio no es el tradicional que todo el mundo conoce. Este negocio es diferente, puedes ganar de varias formas no solo de una, como conocíamos hasta ahora. Tu actitud es muy importante. Para transmitir lo que deseas debes creer en ti, no hace falta que nadie más lo haga, sé el mejor que puedas ser hagas lo que hagas.
Compromiso: Es importante comprometerte contigo mismo, con tu negocio, debes persistir, ser constante, usar las herramientas fundamentales y sitios web necesarios que la empresa pone a nuestra disposición para poder poner en marcha tu negocio. Sé enseñable, el plan está diseñado para triunfar, sólo hazlo, y sigue a la gente que tiene resultados, pues opiniones tenemos todos.
Acción: Quizás sea una de las más importantes, sin acción no hay nada. El éxito no llama a tu puerta, debes salir a buscarlo y si amas lo que haces, acabaras triunfando. Recuerda que nada es gratis y que si quieres resultados diferentes, debes hacer cosas diferentes, asique debes pasar a la acción, haz aquello que dijiste que ibas a hacer, no luego, hazlo ahora, si te resulta difícil, empieza por pequeñas acciones, pues al repetirlas constantemente crearás un hábito, y tendrás resultados.
¿Dónde ves tu futuro en ORGANO™?
Mi futuro en Organo, por supuesto, lo veo como Diamante.
*El ingreso real resultante de la actividad de Socio Partner independiente de Mercadeo, dependerá de la cantidad de tiempo y esfuerzo que un individuo dedica a su negocio.
---