Translations: Italian | Hungarian | French | Spanish |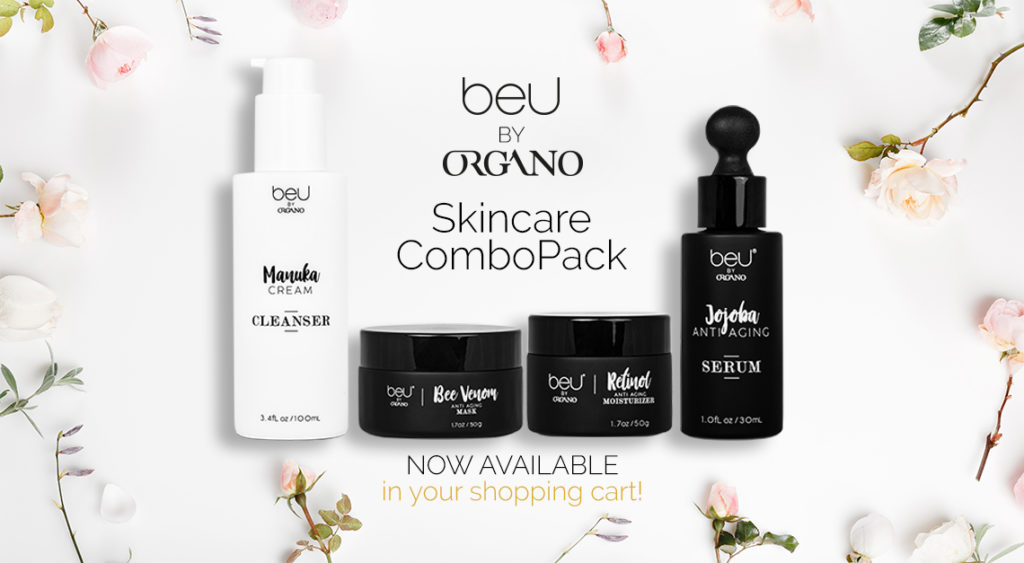 Now is your chance to get this all-natural skincare line and discover all its anti-aging benefits!
Each ComboPack contains one of each:
Manuka Cream Cleanser – A gentle concentrated cleansing cream that fully dissolves makeup, removes impurities without drying skin, restores suppleness and softness.
Bee Venom Anti Aging Mask – Helps stimulate the production of collagen and elastin in your skin and helps to improve the appearance and texture of skin.
Jojoba Anti Aging Serum – An organic jojoba oil based serum that is a great hydrator. Nurtures skin to help preserve youthful glow with its anti aging properties.
Retinol Anti Aging Moisturizer – A pH balanced cream to boost the skin's own ability to produce collagen while smoothing and softening the skin.
Get yours now!
---
beU by ORGANO ComboPack è finalmente arrivato!
Adesso hai la possibilità di avere la linea skincare completa e scoprire tutti i suoi benefici anti-età!
Ogni ComboPack contiene una confezione di:
Manuka Cream Cleanser – Una gentile crema detergente concentrata che dissolve completamente ogni traccia di makeup, rimuove le impurità senza seccare la pelle, e dona morbidezza ed elasticità.
Bee Venom Anti Aging Mask – Aiuta a stimolare la produzione di collagene ed elastina nella tua pelle ed aiuta a migliorare l'aspetto della pelle.
Jojoba Anti Aging Serum – Un siero derivante dall'olio di jojoba, ideale per idratare la pelle. Aiuta a preservare il naturale splendore giovanile con le sue proprietà antiNurtures skin to help preserve youthful glow with its anti-età.
Retinol Anti Aging Moisturizer – Una crema con pH bilanciato per incrementare la naturale abiltà della pelle di produrre collagene mentre dona morbidezza alla pelle.
Acquistali adesso!
---
beU by ORGANO ComboPack est enfin arrivé!
Voici votre chance d'obtenir cette gamme de soins de la peau entièrement naturelle et de découvrir tous ses avantages anti-âge!
Chaque Pack Combo contient un de chaque:
Manuka Cream Cleanser – Une douce crème concentrée nettoyante qui dissout totalement le maquillage, élimine les impuretés sans dessécher la peau, redonne la souplesse et la douceur a votre peau.
Bee Venom Anti Aging Mask – Aide à stimuler la production de collagène et d'élastine dans la peau et à améliorer l'apparence et la texture de la peau.
Jojoba Anti Aging Serum – Un sérum à base d'huile de jojoba biologique qui est un excellent hydrateur. Nourrit la peau pour aider à préserver son éclat de jeunesse grâce à ses propriétés anti-âge.
Retinol Anti Aging Moisturizer- Une crème au pH équilibré pour renforcer la capacité de la peau à produire du collagène tout en lissant et en adoucissant la peau.
Obtenez les maintenant!
---
A beU by ORGANO ComboPack végre megérkezett!
Itt a lehetőség, hogy megszerezze a teljes, kizárólag természetes összetevőkből álló termékvonalat és megismerje azok nagyszerű anti-aging hatását.
Minden ComboPack egyet-egyet tartalmaz az alábbiakból:Manuka Tisztítókrém – Egy gyengéd, koncentrált tisztítókrém, ami teljesen lemossa a sminket és eltávolítja a szennyeződéseket a bőr kiszárítása nélkül és helyreállítja rugalmasságát és puhaságát.
Méhméreg Anti Aging Maszk – Stimulálja a kollagén- és elasztintermelést a bőrében, amivel minimalizálja a finom és erősebb ráncok kialakulását. Ez megszépíti a bőrt és javítja az állagát.
Jojoba Anti Aging Szérum – Az organikus jojobaolajon alapuló szérum nagyszerű hidratálóanyag. Táplálja a bőrt, valamint frissítő hatásai segítségével fiatalosan fényessé teszi azt.
Retinol Anti Aging Hidratálókrém – Ez a kiegyensúlyozott pH-értékkel rendelkező krém segíti a bőr kollagéntermelő képességét, miközben puhábbá és selymesebbé is teszi azt.
Szerezze be sajátját!
---
¡beU by ORGANO ComboPack finalmente está aquí!
¡Ahora es tu oportunidad de obtener esta línea de cura de la piel completamente natural y descubrir todos sus beneficios antienvejecimiento!
Cada ComboPack contiene uno de cada uno:
Manuka Cream Cleanser: una crema limpiadora concentrada suave que disuelve completamente el maquillaje, elimina las impurezas sin resecar la piel, restaura la flexibilidad y la suavidad.
Máscara antienvejecimiento Bee Venom: ayuda a estimular la producción de colágeno y elastina en la piel y ayuda a mejorar el aspecto y la textura de la piel.
Jojoba Anti Aging Serum: un suero orgánico a base de aceite de jojoba que es un gran hidratante. Nutre la piel para ayudar a preservar el brillo juvenil con sus propiedades antienvejecimiento.
Retinol Anti Aging Moisturizer: una crema con pH equilibrado para aumentar la capacidad de la piel de producir colágeno mientras la alisa y suaviza.
¡Consigue el tuyo ahora!
---